Reduce energy use and cut your bills
A massive 22% of the UK's carbon emissions come from energy used to heat and power our homes, (EST). And while the amount of renewable energy in the grid is increasing all the time, there's still a big reliance on fossil fuels to keep us powered.

Unfortunately, many of us live in draughty, energy-inefficient homes in the UK, meaning a lot of heat can go to waste. With all our devices and dark winters we use a lot of electricity too.

Energy use can be hard to visualise, but it's likely a big part of your household's environmental impact. The good news is there are some easy wins to save energy and reduce your gas and electricity bills (beyond just piling on another jumper (are onesies still a thing?). Check out these tips to get started.  

These tips are part of something bigger. At Hubbub, we want to see a world where everyone makes choices that are good for the environment. Check out what we do and how your actions add up.
Did you know heating up water uses a lot of electricity? You've probably heard of shorter showers for the environment (under 4 minutes is ideal), but how about slightly colder ones? It can be more refreshing, and showering with really hot water can actually dry out your skin and hair. Time your hot water heater to only be on when you need it, e.g. if you usually shower in the mornings or in the evenings, and even little things like only boiling the amount of water you need in the kettle can add up. Find more inspiration with these 6 money saving hot water hacks.
Microwaves are more energy efficient than an open hob. If you're trying to decide which way to cook something (ramen noodles, ahem), the microwave will be cheaper! And ovens are one of the least efficient appliances in the kitchen because they're so much larger and have to preheat. If things can be heated in the microwave instead (hello jacket potato hack) then it will be cheaper and faster - or try cooking multiple things at once to make use of all the tray space in the oven. Check out these energy saving cooking hacks, or these 10 tips for cooking more with less energy.
If your house isn't insulated, it's one of the best things you can do to save energy. It's an investment, but there are grants and paybacks you can receive from the government. Check out if it's affordable for you and what help you can get here.

If it's not possible right now, no problem. Enter these mini  DIY insulation tricks! You can help keep the heat in better by using furnishings such as thicker curtains, rugs and blankets. Cosy vibes are a bonus. Keeping room doors closed, using draught excluders against the bottom of doors (particularly your front and back door) and lining strips around windows can all help too. Here's how you can make your own draught excluder out of things you already have.

Give your home some TLC this Autumn with these 8 not-so-glamourous, but oh-so-useful hacks to prep your home for the colder months that help environmentally too.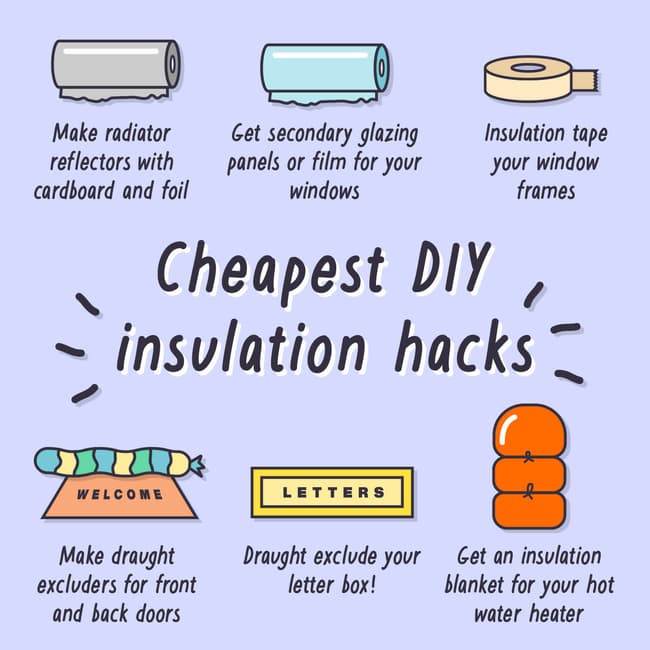 LEDs use 75% less energy than old fashioned standard bulbs and as lighting makes up around 5% of your electric bill, that's not a bad saving over time. If you haven't yet switched, see if you can buy some bulbs this month to light up your home.
The impact of washing clothes and dishes can be reduced by only turning on machines when you have enough for a full load. Tumble driers also rumble up a large part of your energy bills. Why not skip that part altogether, and air dry on a clothes horse?
Smart meters are a new generation of gas and electricity meter that automatically send energy data to your supplier - and every UK household will be offered one by June 2025. Automatic readings mean no more scrabbling around in a dark cupboard to check your meter, and no more estimated bills where inaccurate readings charge you too much (or too little, with a hefty bill to follow later!). Instead, a handy in-home display does all the work for you and shows how much energy you are using in real time. It's a powerful tool to see how much energy and money it really costs to do activities like using the tumble dryer or having extra long showers - great for keeping track if you're trying to cut down your usage, and might just convince you to even if you're not! Click through for 5 top tips to get to grips with smart meters and ultimately, your energy bills.
There are loads of smart tech devices to help us manage our energy use, from smart plugs and bulbs to apps that you can control your house with - great if you've quite a few rooms, busy lives or forgetful kids or housemates. And you don't need to be a tech-head to manage them. Most are pretty simple once you get going and can help you set up savvy rules so you can easily control your home through your phone or smart speaker or set up rules so it does the hard work for you.
An easy peasy one you've probably heard before, but worth mentioning! Simply turning the thermostat down by just one degree could save up to 10% on your energy bill (Energy Saving Trust).
When buying a new device or appliance look for the magic green A rating. This means the product is the most energy efficient, and so will be both cheaper to run, and better for the environment.
When the UK Government signed the 2015 Paris agreement, they pledged to reach net zero emissions by 2050 and have announced that all of the UK's electricity will come from clean sources by 2035. Powering our homes with green energy (solar, wind, tidal) produces far, far less carbon emissions than burning fossil fuels coal, oil and gas so switching to a renewable tariff is a great action you can take - and takes minutes! USwitch or Ofgem has a run-through of everything you'll need to get switching, the websites you can trust to do so and how to things to bear in mind when choosing. Grab a cuppa, dig out your energy bill then follow their simple steps.
It's common for radiators to accumulate trapped air which means hot water in your heating system can't flow as effectively and can't keep you as warm as they could. Removing air from your heating system, or 'bleeding' your radiators is straight forward when you know how - it's time to get up close and personal with your radiators. Wickes have a simple video tutorial for how to bleed a radiator. It can even make your radiators quieter - bonus.
Creating wider change
A lot of UK homes are not built efficiently, so providing support for people to insulate and retrofit their homes is something that needs to come from Gov, as it can be an expensive and long process. Check out the work being done by The Great Homes Upgrade to upgrade 19 million homes by 2030, and write to your MP about planning environmentally for new housing developments, as outlined in this petition.
Making waves in the workplace
One of the biggest long-term changes and impact you could make in the workplace is for the building to be run with renewable energy. Figure out who makes these decisions for your building or space and if there is potential for the tariff to be changed when the time comes to renew. Renewable tariffs can often be the cheaper option, and getting the other residents on board too might help.


What happened when Hubbub tried it?
We partnered with BT on the 'Smarter Living Challenge' where 61 households went head to head to see how technology could help them cut energy use, live smarter and save money. They chose a piece of smart tech to invest in and took part in the 3 months of challenges and workshops with Hubbub. Read all about the impact it had.
Want to stay in the loop?  
Sign up to our newsletters to be the first to know about new campaigns, launches, tips, research and environmental news. You're in for a treat.