Smarter Living Challenge
What springs to mind when you think of tech solutions to climate change? Large-scale technologies like renewable energy, carbon capture and lab-grown meat alternatives are likely to be on your list. But the link between tech we use at home and the environment is not always obvious.
In December 2020, Hubbub partnered with BT to carry out a three-month challenge to explore how technology can help people to cut carbon emissions, save money and live smarter at home.

Breaking down the barriers:
Rise in flexible working:

Plus, with more people enjoying flexible working and with energy bills on the rise, doing our bit at home is more important than ever.

Low tech awareness:

Hubbub polling found only 29% of households were using tech to manage their home. (Hubbub)

Hard to shift habits:

We know many people want to do what they can for the environment but keeping up 'sustainable' behaviours is not always straightforward e.g., forgetting to switch off lights or not getting round to setting a timer on your heating.
Through this project, we wanted to dig deeper into the role tech could play in breaking down barriers to cost and carbon saving choices and whether it could bridge the gap between making a habit – routine.
How did we go about it?
A diverse group of 61 UK households - a mix of BT employees and the general public - came together in an online community to try out a series of challenges and technology including apps, smart home tech and other tips to manage their energy, food and water use.

The group tried out tech and non-tech approaches across four themes:
Heating and hot water
Lighting and power
Food
Lifestyle (travel, automation, tech repair)
The households ranged from the tech savvy to the self-confessed technophobe, were a mix of ages and lived all around the UK. The group were supported through visiting experts and had a £50 voucher to spend on smart tech.

Households were interviewed at the beginning and end of the trial to gauge how their attitudes and behaviours had changed.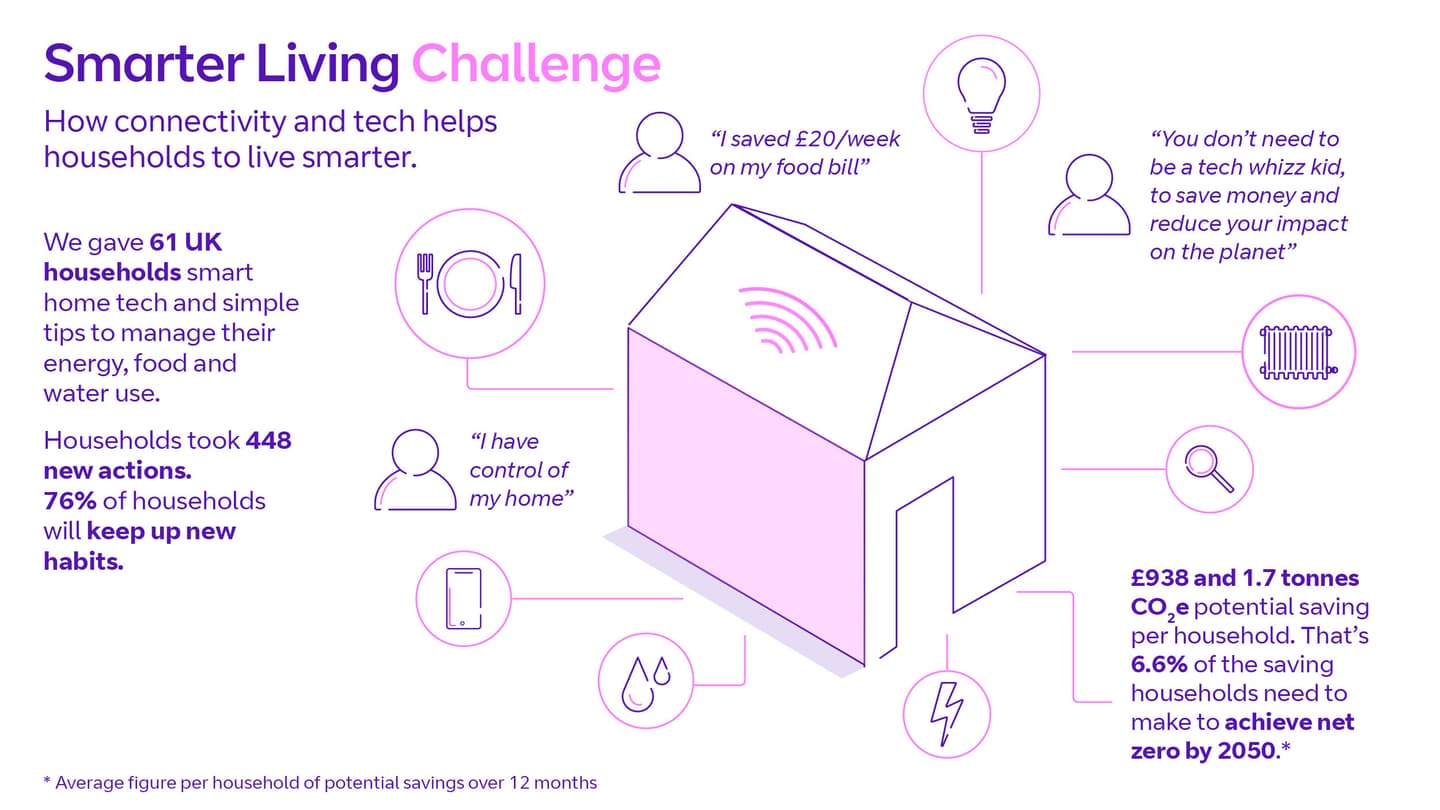 What difference have we made? 
These were some of the ways tech enabled change in the home:
Visualising energy use e.g. appliances which wasted energy on standby
Identifying ways to cut food waste e.g. planning meals, knowing what's in your fridge
Setting up prompts to embed new habits e.g. smart speaker powered night-time routines for electronics and heating routines
This shows the power that we have as individuals in reducing our carbon, through the small actions we take and the behaviours we change.

Curious to know more about Hubbub?
At Hubbub, we want to see a world where everyone makes choices that are good for the environment. Check out what we do and the difference we're making.