FFS, Don't Drop Litter
Are you flippin' frustrated about litter? Us too...'For Fish's Sake (#FFSLDN)' launched in 2017 to explore new ways of tackling riverside littering, using bright messaging and playful interventions to grab attention about this fishy issue.
Why focus on waterways?
The River Thames is one of the world's most iconic rivers. It's the cultural, financial, and historical artery of London, but the amount of litter entering the river is on the rise. According to Thames 21,300 tonnes of rubbish is cleared from the Thames each year. That's equivalent to 43 bottlenose whales (the type found in the Thames in 2006) …and that's not to mention what sinks to the riverbed or what gets washed out to sea. 7 in 10 Londoners think the Thames is too polluted for fish to survive, but it's home to 125 species of fish, and even dolphins and sea horses! For those who prefer pound signs to porpoises, the Thames is worth £ billions to the UK economy and provides thousands of jobs (Port of London Authority).
So what? We went fishing for insights

Hubbub polling in 2017 and further research revealed what the public think and how rubbish ends up in waterways.
People dislike littering

Our polling showed 80% of people said they felt angry when they saw someone drop litter.

Litter comes from land

Some litter gets dropped directly into the river, but much of it comes from land all over the city. So, while we don't like littering more than 51% of us admit to having squeezed litter into a bin when it's clearly overflowing. If litter overflows, it could make its way to our waterways.

But people don't realise how litter gets into waterways

Only half of us believe that litter dropped on the streets of London is unlikely to end up in the ocean. In fact, 80% of ocean plastics comes from land and rivers, which is often eaten by birds, fish, and other marine species.

If it's small, it still matters

Small pieces of litter are less likely to make it into a bin but can have devastating effects on the environment. E.g. napkins, receipts, food wrappers, cups, lids, cigarette butts. 74% of all litter picked from the Thames is food and drink related.
FFS, Don't Drop Litter
From the Cabinet of Curiosities showcasing some of the more unusual things that pulled from the river – (including a love poem in a bottle for Kate Tempest!), to a community gallery and films showcasing locals who rely on the Thames for their livelihoods, floor vinyls and Ballot Bins - we pushed the boat out to grab people's attention about this fishy issue.
After the success in a central, touristy area, we were interested to see if similar approaches could work in a more residential area. So, in 2018 #FFSLDN made its way upstream to Putney! This time featuring a faux 'Fishmonger' displaying freshly caught litter and voting bins, alongside eye-catching messaging on railings and lampposts.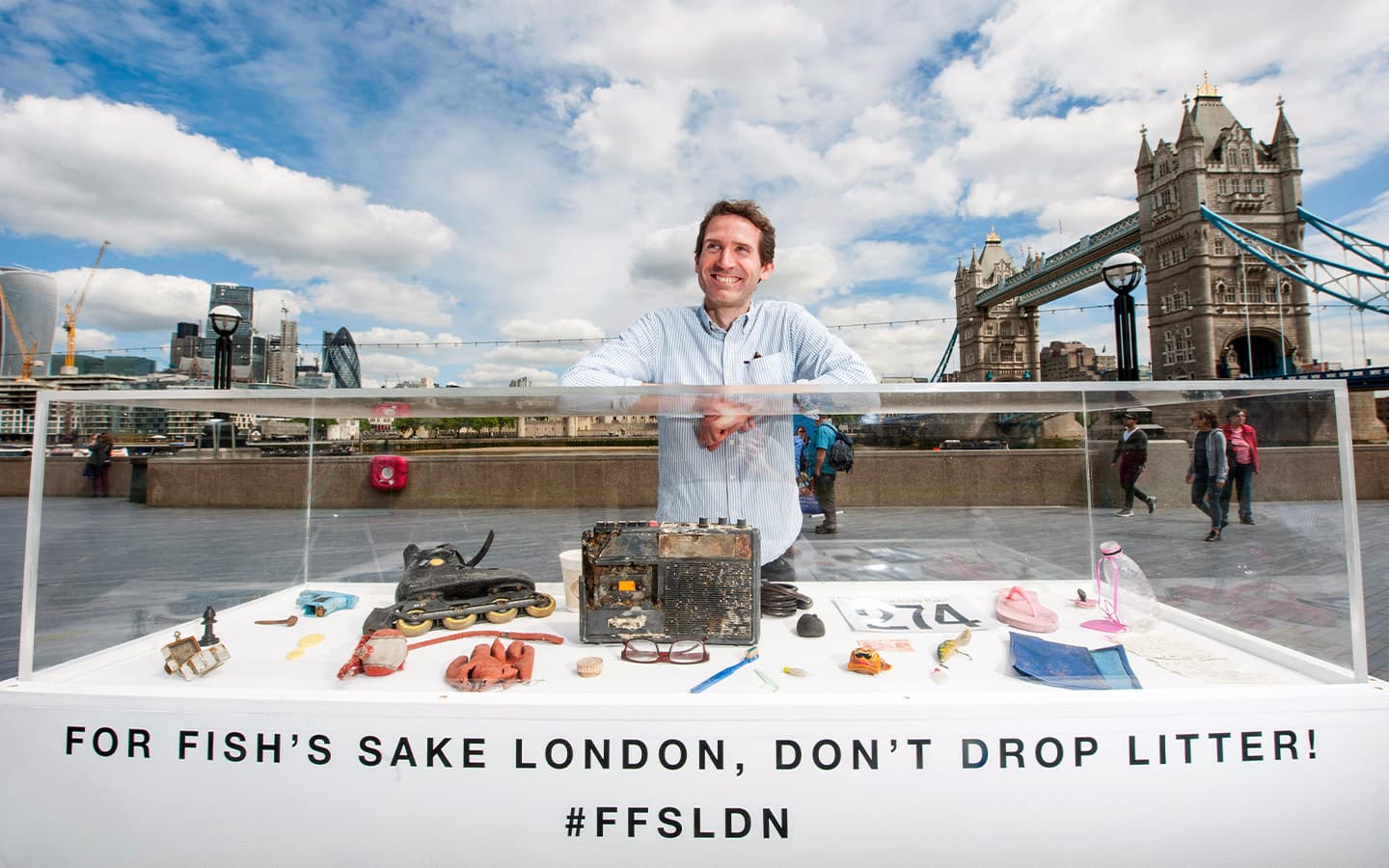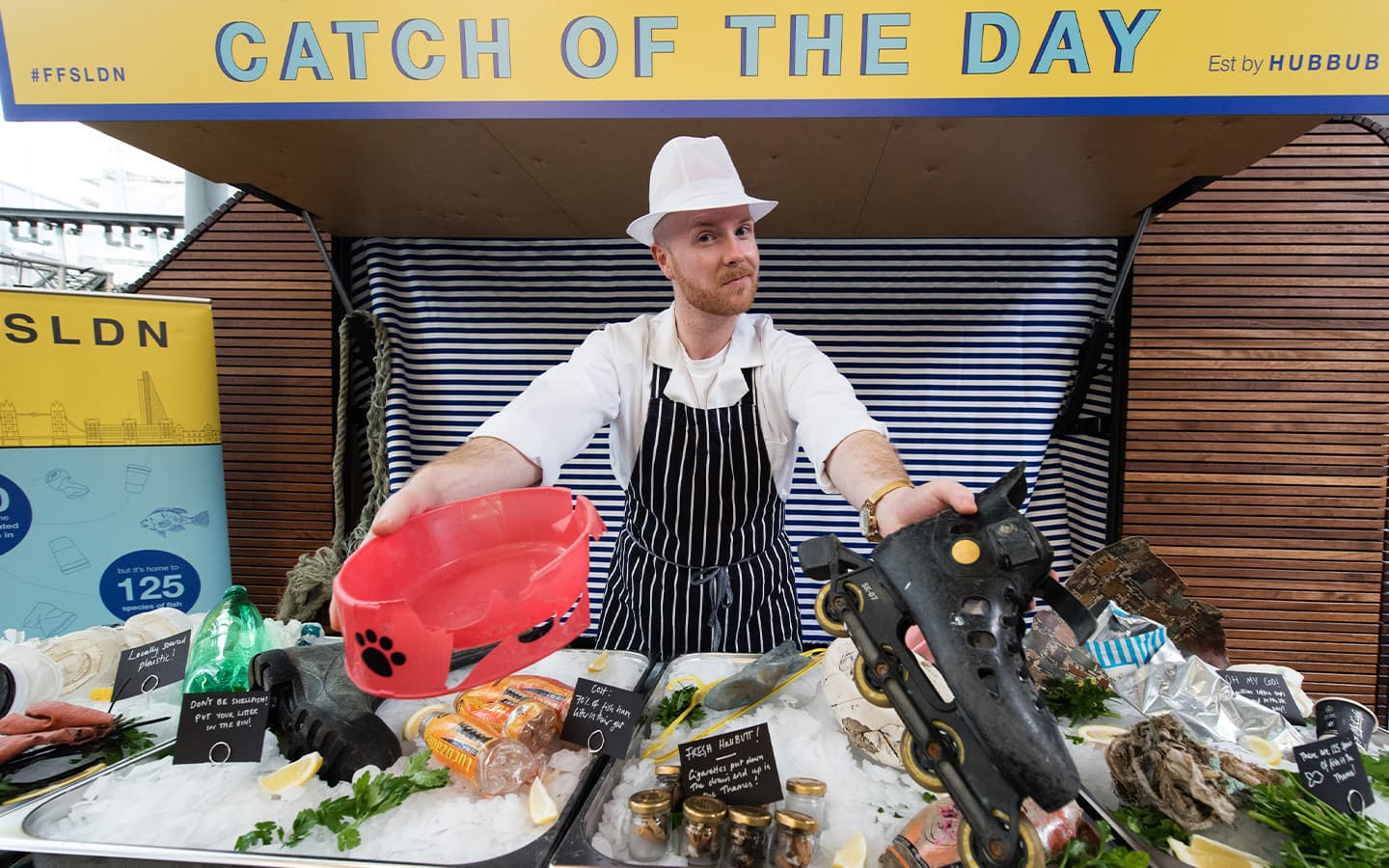 The difference made
#FFSLDN at London Bridge ran from May-September 2017 and achieved:
1) A significant reduction in litter: 
A 32% reduction in riverside litter in the London Bridge area. 
The voting litter bin placed by the river was popular and the area surrounding it experienced an average 20% drop in litter. 
2) An increase in awareness of the issue of littering and changed behaviours: 
Raised widespread awareness with 45 pieces of coverage with opportunities to see/hear of 121 million. #FFSLDN tweets had a reach of 8.1M. 
This led to office workers reporting they were 62% less likely to litter. 
People reported they were 38% more likely to travel to bin their rubbish responsibly.
Supporters
#FFSLDN 2017 was led by Hubbub, supported by the Port of London Authority and backed by a unique coalition of organisations including British Plastics Federation, INCPEN, Natural Hydration Council, St Katharine Docks and Tobacco Manufacturers Association.
#FFSLDN 2018 was led by Hubbub, supported by the Port of London Authority and brought to Putney in partnership with Wandsworth Council and Positively Putney BID.
Discover more: #FFSLDN Putney Impact Report
Want to take matters into your own fins?
When you're out and about, try these 3 simple tips:
Always use a bin: Not the gutter, river, or pavement
Be the bigger fish: If you see some litter and you're near a bin – pick it up!
Stop the (over)flow: If the bin is full, find another or take your litter home.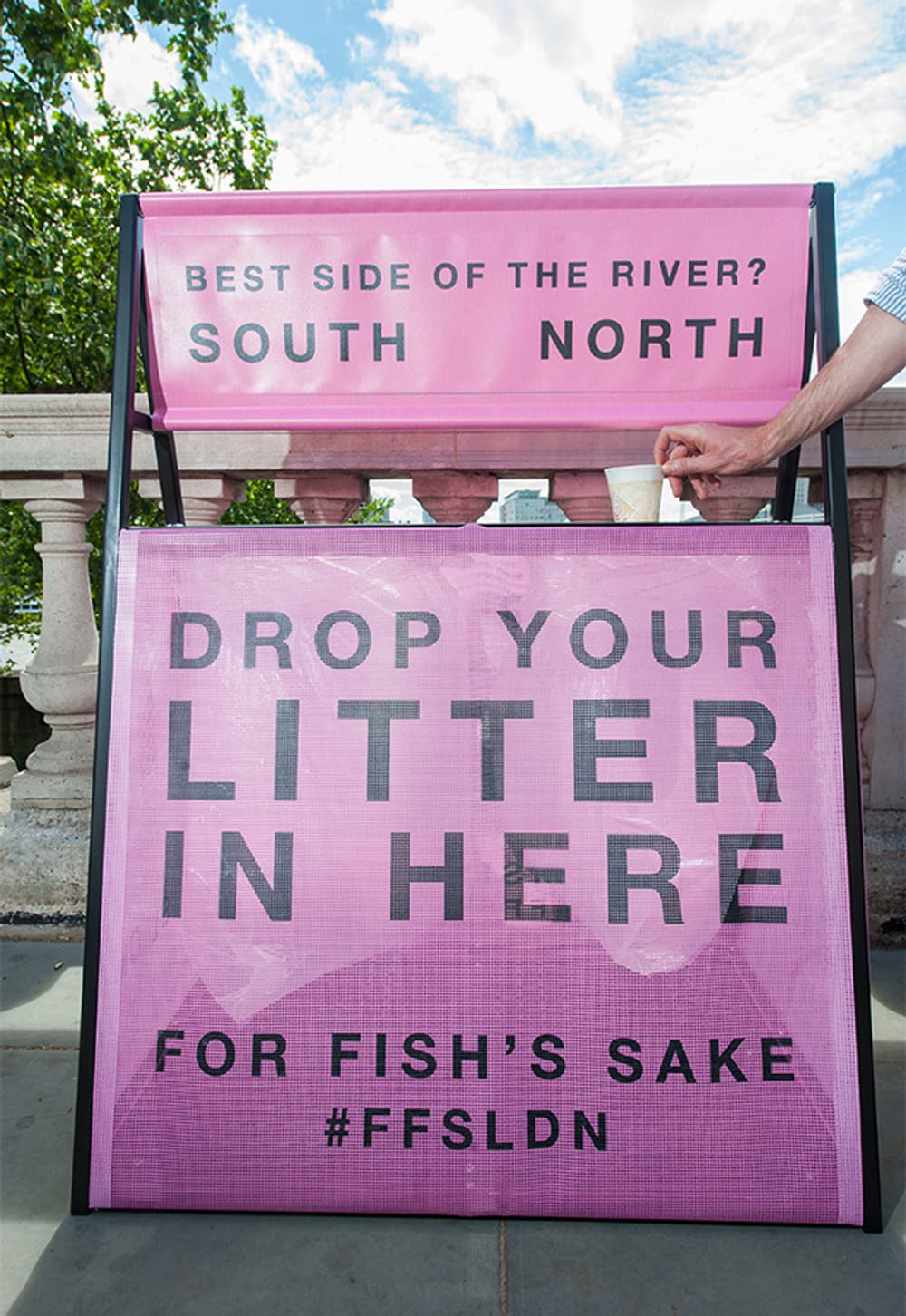 Looking to tackle litter?
Check out how our world-famous Ballot Bin voting ashtray has been proven to cut cigarette litter by up to 73%.
Curious to know more about Hubbub?
At Hubbub, we want to see a world where everyone makes choices that are good for the environment. Check out what we do and the difference we're making.