Ballot Bin
Often imitated but never bettered, the Ballot Bin is the world's first customisable voting ashtray that is proven to cut cigarette litter by up to 73% (Ellipsis impact report, 2021).

The Ballot Bin started as an experiment in Villiers Street in 2015 to nudge smokers to vote rather than throw their butts on the floor. The first Ballot Bin asked the question, 'Who's the best footballer in the world? Ronaldo or Messi'. It took social media by storm and went viral, reaching 6 million people online.

Now you can find Ballot Bins in 43 countries around the world, collecting an estimated 15 million cigarette butts a year.
The butt of the problem 
Cigarette butts are the most littered item in the world. It's estimated that a whopping 3.9 million cigarette butts are dropped daily in the UK alone (source: National Geographic - Cigarette butts are toxic plastic pollution. Should they be banned?).

They're also a hidden single-use plastic, as the filters in cigarette butts contain cellulose acetate. With over 6 trillion cigarettes manufactured each year, that's over a million tonnes of plastic (National Geographic).

Washed from the streets into gutters, or dropped into drains, cigarette butts often end up in the sea, contributing to ocean pollution. The filters break down into microplastics, and leak chemicals that are toxic to wildlife such as fish.
How it works
Which is the better pet, cats or dogs? Whether you like one, both, or none, a question like this awakens the brain, boosts morale and taps into our instinct to participate with a reply. The Ballot Bin uses the same technique to engage and nudge smokers to 'vote' with their butts rather than drop them on the ground. Each Ballot Bin has one question and two responses along with a window to display the used butts, so a public opinion poll builds competition as old butts pile up on either side. Questions can be tailored to things like the location, community or a seasonal event.

The difference we're making
Since it first went viral, there are now over 5,000 Ballot Bins in 43 countries, saving an estimated 15 million cigarette butts from being littered a year. The Ballot Bin has achieved B Corp status, the Queen's Award for Enterprise and has featured on Jamie Oliver's Twitter feed.
Get involved
Bin your butt. Wherever you are, with a Ballot Bin or not, make sure butts end up in the bin rather than the ground where they can wash into our rivers and oceans.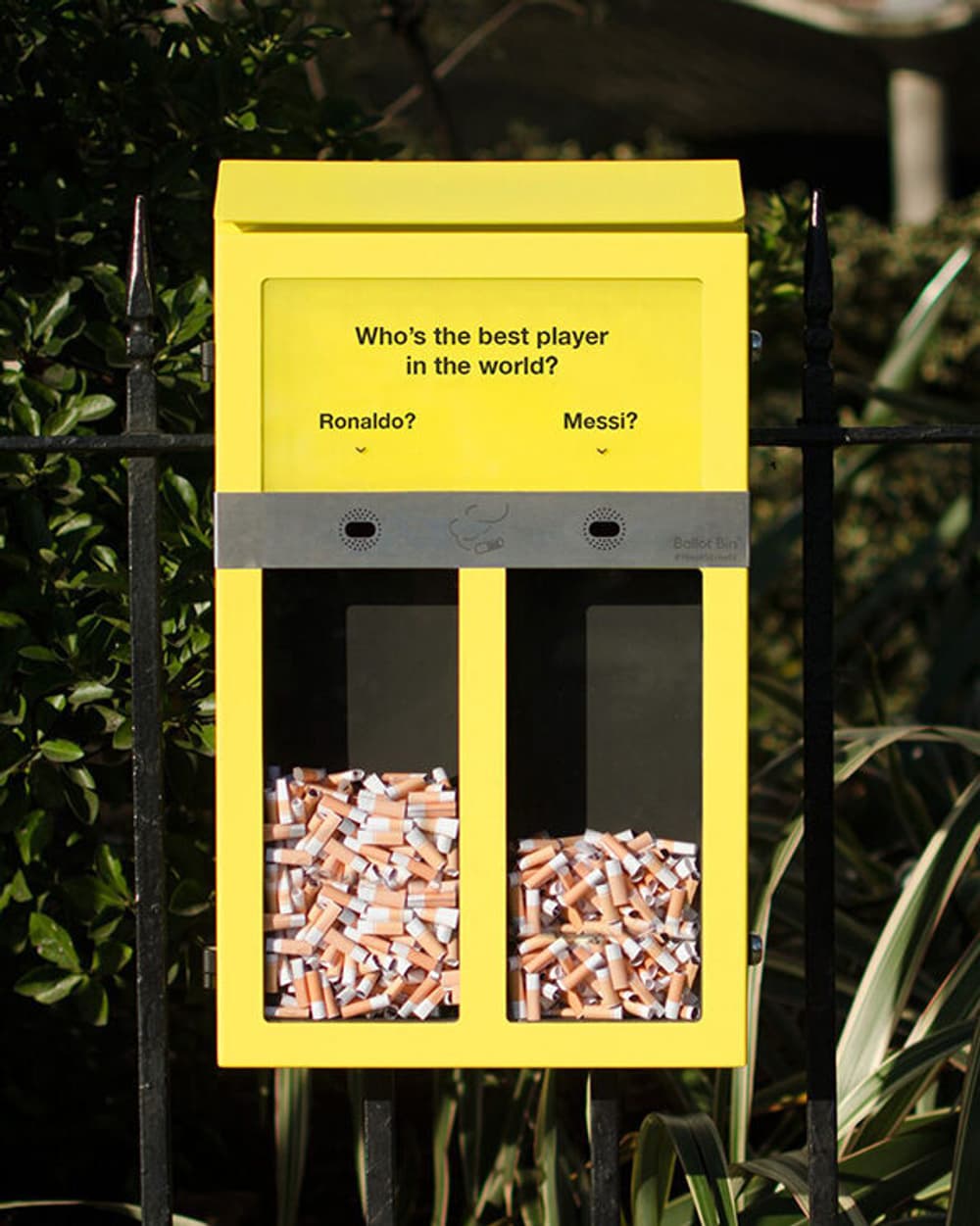 Want to stay in the loop?
Sign up to our newsletters to be the first to know about new campaigns, launches, tips, research and environmental news. You're in for a treat.