Chrisp Street Community Cycle Hub
If you're a cyclist, you'll know that cycling is fun, good for physical and mental health, often saves time (less traffic jams!), and money compared to other modes of transport and reduces air pollution. It's a win, win. So getting more people cycling makes sense for people and planet. Yet despite the multiple benefits to biking, some groups are less likely to cycle.

In fact, The Sustrans 2019 Tower Hamlets Bike Life Report found that, of those who cycled at least once a week, just 6% are women (vs 16% men) and 7% of people from minority ethnic groups (vs 16% of white people). Sustrans 2020 Cycling For Everyone report, revealed that in the UK, 36% of women and 55% of people from minority ethnic groups who don't currently cycle, would like to start. So how can we make this happen?

Let's zoom in on the issue!
According to the Bike Life Report (2019) commissioned by Sustrans, some of the top barriers to cycling in the borough of Tower Hamlets are:
Car travel in the borough is the norm.

Despite car ownership being lower than average, there is a lot of through traffic across Tower Hamlets but it's the local population who are suffering the consequences, living with one of one of lowest Air Quality environments in London. Transport accounts nearly for 40% of CO2 emissions in the area.

Lack of storage...

...for bikes at home or work. With many people living in flats, storing a bike inside can be inconvenient. 12% cited this in the Bike Life report.

"Cycling is not for people like me"

In the Bike Life report 33% residents didn't feel like it was an activity they could take part in.
So how can we change this? Trialling a one-stop cycling hub for the community
Working alongside walking and cycling charity, Sustrans, and housing association Poplar HARCA we set up Chrisp Street Community Cycles (CSCC) to empower women in Poplar, specifically Muslim women, to cycle more, improve their health and build their confidence to create role models to inspire others.
Situated in a disused shop on a busy Poplar high street in Tower Hamlets, the hub offers a range of free activities including free bike loans to enable residents to start cycling and build confidence. Since August 2021, the hub has been open two days a week, staffed by local women.
What difference did we make? 
Since the hub launched in 2021, it's proved incredibly popular in Poplar! Over 24 days the hub delivered 41 learn to ride and cycling skill sessions and organised 11 guided rides including family and women-only groups. 445 people benefitted from the sessions with 151 bikes loans and 182 repaired.
Encouragingly, over a third of people had never previously been on a bike and nearly a quarter were had not cycled for many years, or since they were children. 82% of people using the services were women and 86% were from an minority ethnic background.
Their cycling experience was overwhelmingly positive with benefits including feeling more confident, happier, healthier and able to explore nature.
Read our impact report to learn more about what we did and how we got more women cycling and listen to our podcast to hear more about this project and the stories of the women who started this chain reaction.

Keen to get involved?
If you live in Poplar, we'd love you to come down to the hub and get involved. The hub is now managed by Poplar HARCA, and you can find the latest timetable of activities on the Chrisp Street website.

If you're not local, you can still get cycling by:
Checking your council's website to see if there are free lessons available.
If you're interested in hearing more about Chrisp Street Community Cycles or partnering with us on future cycling projects, please email hello@hubbub.org.uk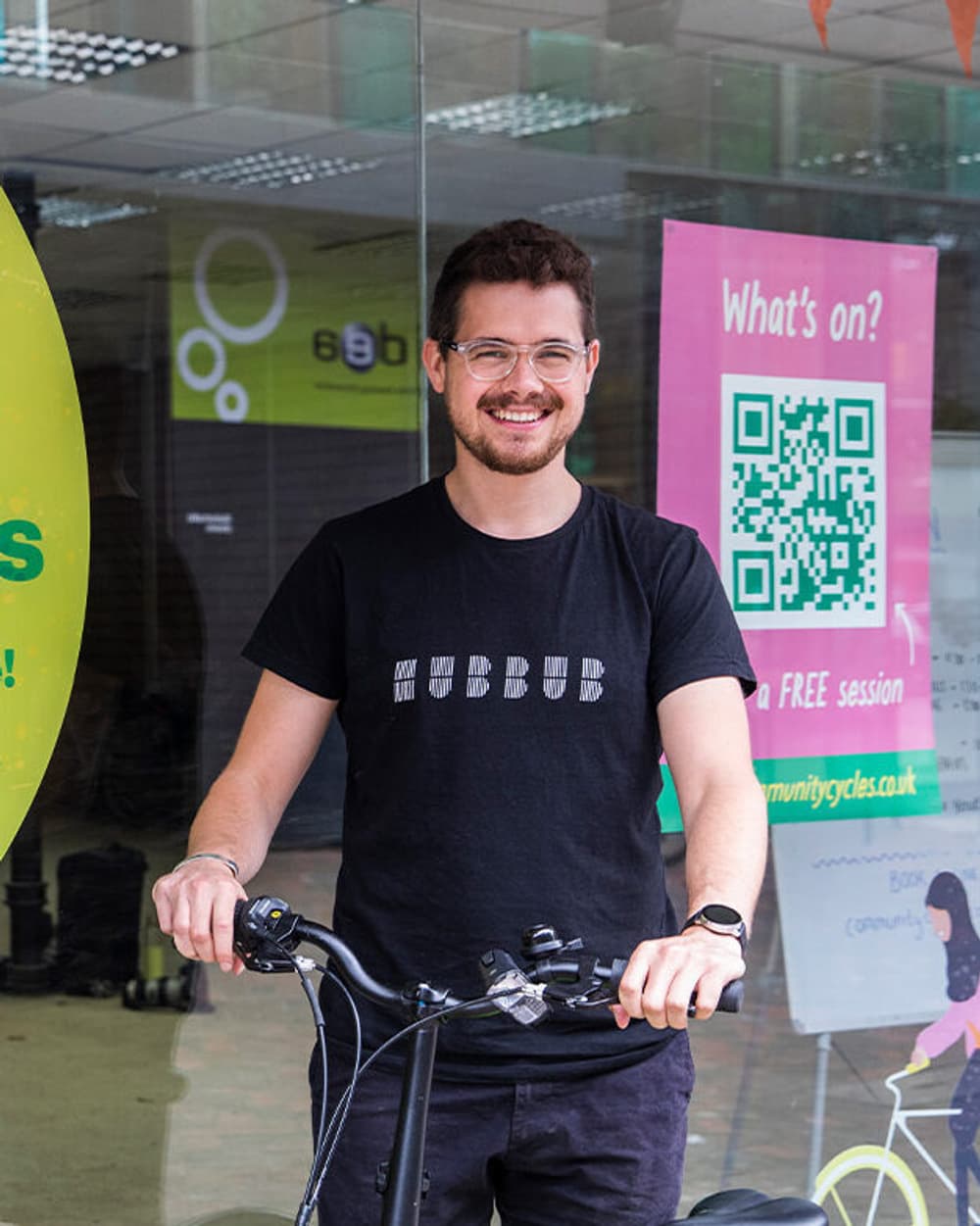 Want to stay in the loop?
Sign up to our newsletters to be the first to know about new campaigns, launches, tips, research and environmental news. You're in for a treat.