What's In My Wash?
Did you know that fabrics like polyester, nylon, and acrylic, which make up most of our wardrobes, are types of plastic? When washed they shed little strands called plastic microfibers—tiny plastic strands less than 5mm long. These slip through wastewater treatment systems like escape artists and end up in oceans, drinking water, food and even human poo. Despite being found everywhere, not many of us know about them.
What's In My Wash? brought together scientists, organisations and experts to demystify the issue and call on industry to take collaborative action to reduce plastic pollution from our clothes. It also raised awareness and set out actions we can all take to reduce the wear of our clothes and the likelihood of microfibres shedding.
The macro problem of microplastics
Half a million tonnes of plastic microfibres a year contribute to ocean pollution – 16 times more than the plastic microbeads from cosmetics - making them the largest source of primary microplastic pollution in our oceans (Ellen MacArthur Foundation)
Microplastics have been found in marine organisms from plankton to whales, and our food, though the long-term impact on human health is unknown. They're so small most water treatment facilities can't filter them before they get to rivers and oceans.
Making the invisible, visible
In 2018, we set out to raise awareness of the issue and collaborated with scientists, organisations and experts on the topic to create a website hub with the latest thinking and a set of shared actions and recommendations for people and industry to take. They include: 
To make the issue visible, we designed a giant washing machine to magnify plastic microfibres and show what goes on behind the seams when we wash our clothes. The installation featured robotic fish swimming alongside plastic microfibres to connect the impact of fashion to our environment, and it was located at Old Street and Bond Street tube stations in London.
A series of videos featuring researchers opened up an informative and honest conversation on what we know about the issue, and where more research is needed. Public polling also uncovered that 68% of people in the UK want to see more research into the long-term health implications of microfibres in the food we eat (Hubbub, 2018), a level of concern that we hope will spark more collaborative action amongst government and industry.

Discover more about our #WhatsInMyWash campaign
How you can get involved
Spread the word! Change comes in numbers. Ask your favourite brands what they're doing to reduce the impact of fashion on the environment.
You could also let your friends and family know how they can reduce the wear of their clothes and make them last longer with these five steps:
Look at your clothing labels: Be aware of the care instructions and what your clothes are made from.
Wash clothes only when needed: If you can get another wear, let it air instead.
Wash at 30 and on shorter cycles: Cooler and gentler cycles are kinder to your clothes, they use less energy too.
Air dry your clothes
Choose clothes you love that are made to last: To avoid clothing (and microplastics) ending up in landfill.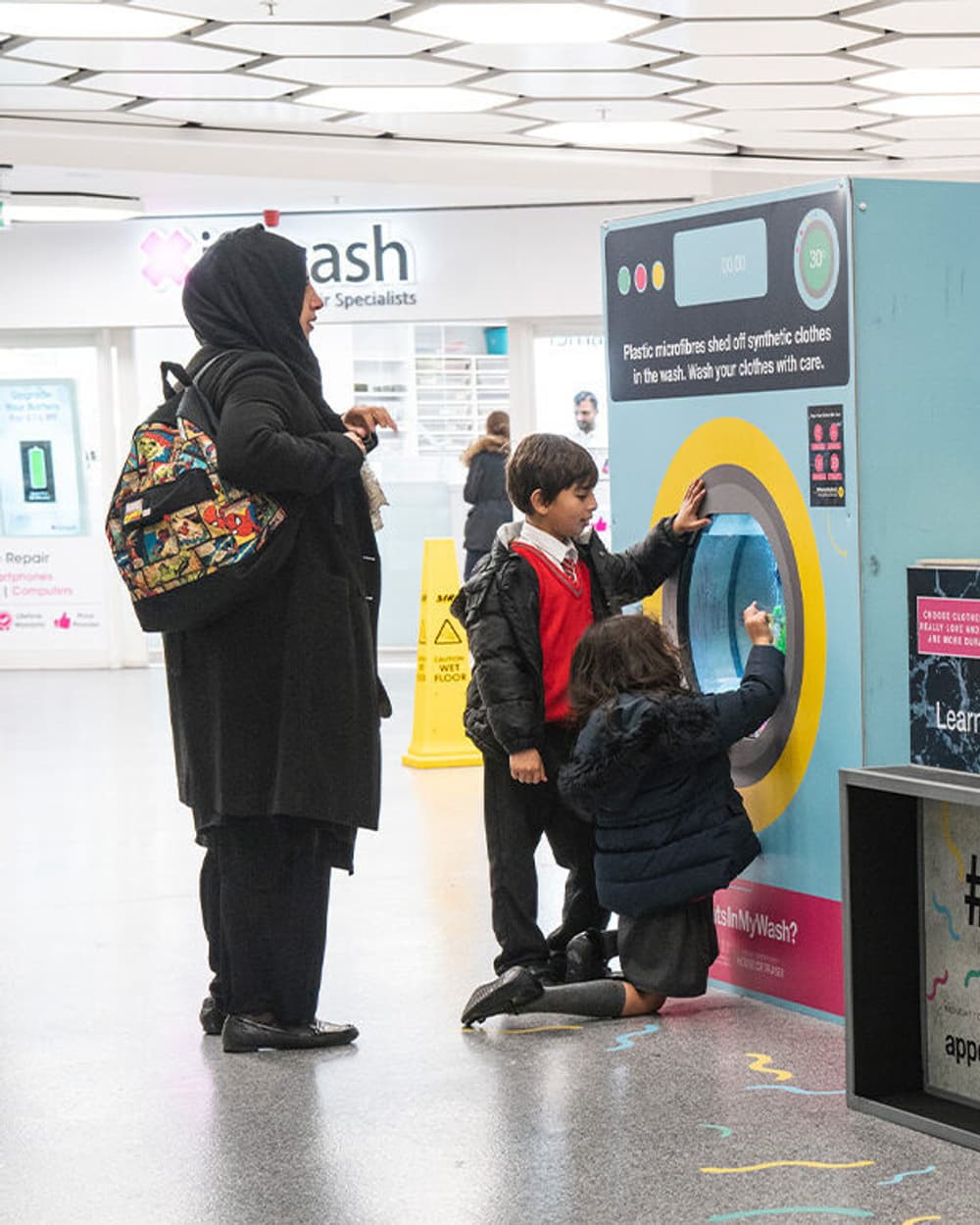 Want more on how to make your wardrobe work for you and the planet?
Tune into the new season of our podcast 'Down to Earth' to explore everything sustainable fashion in conversation with designers, experts and changemakers.