What to do about air pollution
Air pollution is invisible, but it's in the air we breathe. Even though we might not feel the effects day-to-day, breathing polluted air can harm our health in the long term. In fact, outside air pollution is estimated to kill 4.5 million people globally every year (one of the biggest killers after high blood pressure and smoking).
We've explored ways we can all breathe less pollution and protect our health, whilst cutting our own contribution and campaigning for wider change. If we all make small changes, and ask our businesses and government to make changes, together we can make a big impact.
There's lots we can do to improve the air quality and here are our top tips to reduce your exposure to air pollution and make a positive impact, both in and out of the home.
These tips are part of something bigger. At Hubbub, we want to see a world where everyone makes choices that are good for the environment. Check out what we do and how your actions add up.
When out and about
Where it's easy to make the switch - choose public transport instead of taking a car.  By walking and cycling you help keep the air clean, stay fit and you generally breathe in less pollution than people travelling in vehicles. Car users breathe in more pollution than cyclists and pedestrians on average, because invisible pollution enters the car from the traffic in front. To get you started have a free cycle on us with Brompton hire code 'AirWeShare'.
Travelling down back routes, away from busy roads can significantly reduce your exposure to polluted air. Exploring a city away from its busy roads can also reveal all sorts of hidden gems and city secrets!  Try downloading City Mapper and selecting the 'quiet route', when looking for ways to get from A to B or plan your route using a Clean Air Route Finder.
40% of us get deliveries to city centre workplaces, which directly creates more vehicles on the road - meaning more traffic and more pollution. Use 'click & collect' as an easy, free alternative.
If you're looking for a pollution-free way of getting stuff about the city, pedal-powered cargo bike services such as Pedal-Me are popping up to deliver things (and sometimes people!), why not give it a go.
Join a local group campaigning for change, such as Mums For Lungs and The Air Team, or get in touch with your local MP to ask them what they're doing to clean up our air. You can also ask your employer what they're doing to take action on air pollution.
When at home
We often assume that air pollution is something we encounter outdoors, however thanks to improved insulation and the increased use of cleaning products, research shows that the air inside our homes can actually be up to five times more polluted than the air outside it.
Did you know that air quality can actually be up to five times worse inside your home? Luckily there are some really simple things you can do to clean up the air in your home.
Fuel-burning in our homes contributes to pollution. By keeping your home cosy and insulating it well, you can turn down the thermostat, helping reduce pollution and saving you money on energy bills. If you need to burn solid fuels to heat your home, make sure your stove meets legal requirements and use smokeless fuels.  More guidance can be found here.
Cleaning products and air freshers can be full of synthetic fragrances. Choose fragrance-free products or experiment with natural alternatives such as lemon and baking soda. Check out these homemade cleaners from Good Housekeeping for inspiration.
When researching ways to clean air in space stations NASA discovered that certain plants could absorb bad guys like benzene, formaldehyde and trichloroethylene (boo, hiss!) from the environment. Plants like the Peace Lilly or Snake Plant come out top, but read this infographic to see which ones will work best for your space.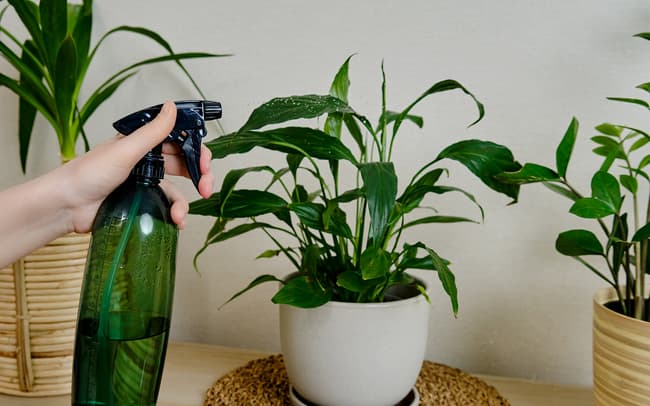 It's an obvious one but don't forget to crack open your windows to let fresh air in and ventilate your room (bonus points for singing like Elbow). If you live by a busy road, then it's best to avoid leaving the windows open at rush hour.
Get regular checks on your boiler and cooker, to make sure that they aren't leaking gas. Make sure you have a Carbon Monoxide alarm in the house to monitor CO levels. When cooking, open a window or pop an extractor fan on to reduce the amount of gases you might breathe in.
Lighting a candle instantly creates an 'atmosphere' but may actually be polluting the atmosphere with soot and artificial fragrances. To improve air quality burn candles less, choose non-scented candles or increase ventilation in the room.
Trap dust and dirt from outside before it gets in the home with a cheerful doormat. Shoes drag dirt and pollutants around the house, so swap for slippers to improve air quality.
Do you care about the #AirWeShare? 
We set out to explore how our daily actions affect how much pollution we're exposed to, and how to cut our pollution. Find out more.
See Hubbub in action
From Community Fridges that cut food waste to Ballot Bins that halve cigarette litter, our campaigns show what taking action that's good for the environment looks like in practice.