Time After Time
We're partnering with Virgin Media O2 to create a campaign and movement that works with young people for action on e-waste. We'll help Gen-Z connect with an issue that feels distant and difficult to relate to: less than half of young people know phones thrown in the general bin will end up in landfill or incinerated. #TimeAfterTime will build on the momentum of preloved fashion to create a buzz around circular solutions and refurbished technology.
Alongside this, we have a £500,000 fund to support innovative programs, initiatives, and campaigns that promote digital inclusion, reduce e-waste, and support the circular economy. We're looking for projects that aim to close the digital divide and inspire behaviour change across the UK. Funding ranges from £25,000 to £100,000. Interested? Submit by October 21st.

Tech a look at the bigger picture...
E-waste is the fastest growing waste stream in the world. Some reports say by 2040 the production and use of electronics will make up 14% of global carbon emissions. Many of earth's most valuable minerals aren't in the ground, but are sitting in people's homes or landfill sites because of what we keep and how we throw things away. We know from our Community Calling campaign with Virgin Media O2 that valuable devices and materials can go on to have a second life that builds social inclusion with an environmental impact.
Phones and tech are integral to Gen-Z living: life skills, schoolwork, shopping, scrolling and socialising all rely on digital spaces and tech. But e-waste - waste from electronic items - isn't on the cultural radar in the same way as second-hand fashion is for young people. It doesn't connect, and so there's little knowledge or motivation to act on it.
What's the sitch? Let's zoom in on the issue!
There are approximately 40 million unused gadgets stashed away in UK homes, and the average UK household has 20 unwanted electricals gathering dust (Royal Society of Chemistry).

Through Hubbub's research and #TimeAfterTime polling, we've identified five reasons why encouraging young people (16-24) to engage with the issue of e-waste is both a tricky task and a pool of potential. For the young people we polled:
Lack of awareness

27% didn't know you could recycle old smartphones. (Hubbub, 2022)

Uncertainty around recycling

More than 1 in 4 (28%) don't know you can recycle your old smartphone at designated e-waste recycling points. (Hubbub, 2022)

Tech left behind

More than 1 in 3 (36%) have unused phones sitting in drawers at home – all losing value and could be recycled or used. (Hubbub, 2022)

Post-bin journey

Less than half (47%) realise that phones thrown in the general waste bin will end up in landfill or incinerated. (Hubbub, 2022)

Trend to upgrade

40% of 18-24 year-olds replace their smartphone within two years. (YouGov, 2020)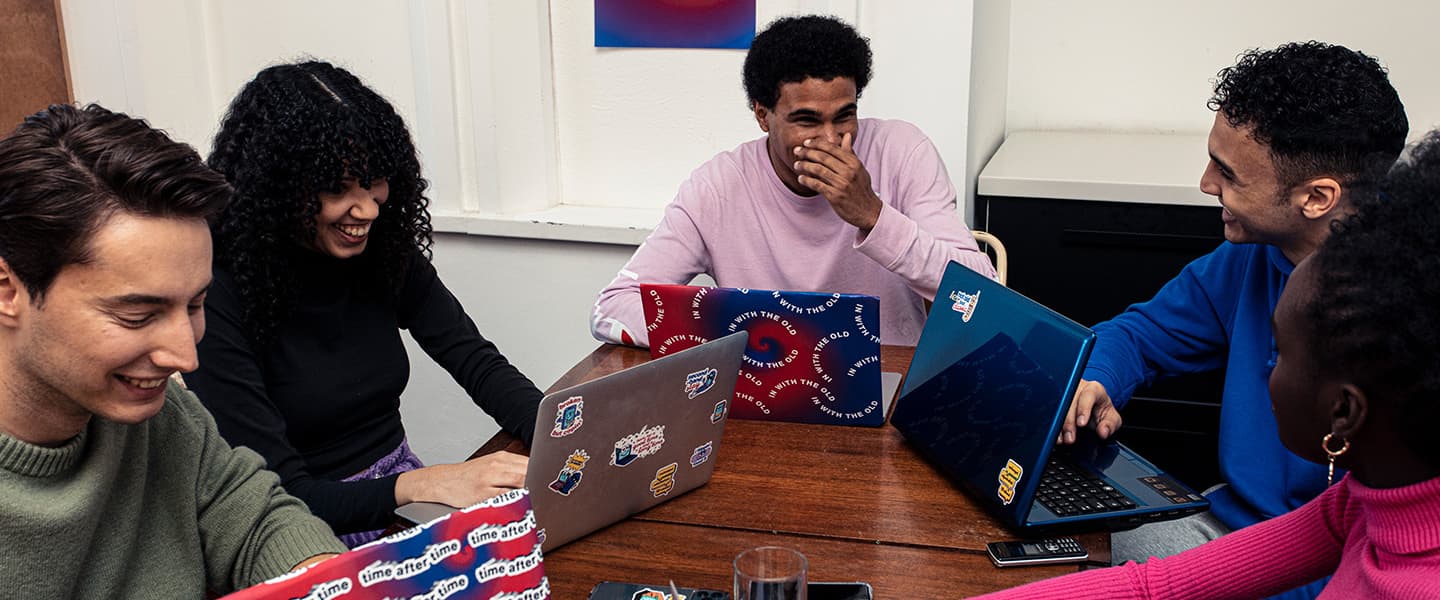 The campaign will use hackathons in universities across the UK to enable and empower young people to create their own solutions and message.
Leading the charge for circular actions on tech
Through the Time After Time campaign, we're spreading the word about how to keep current devices in use for longer, recycle old devices properly, and buy refurbished instead of new.

We've worked with young people to co-create sharable e-waste tips for social media, organised repair fairs and e-waste collection points in universities across the UK, and will be attending freshers fayres this fall to get young people talking about tech. We wanted students to tell us what they thought could help tackle e-waste, so we organised a design hackathon with the Manchester School of Art at MMU, and an inter-university hackathon for behavioural economics with the UCL Behavioural Environmental Economics Team and the University of Warwick . Students' ideas ranged from giant e-waste installations to trading in e-waste for concert tickets, behavioural nudges through phone notifications, an e-waste Snapchat filer and more.
How can you get involved? Slide into our dms...
Are you a student group, university or provide for students and interested in collaborating on this campaign? Contact us.
Have a project in mind that can promote digital inclusion and tackle electronic waste? Check out the Time After Time e-waste fund. Expressions of interest close October 21st.
Got a spare phone at home? Donate to Community Calling.