Starbucks 5p cup charge
We're working with Starbucks to build stronger, greener communities. When customers bring in a reusable cup, they'll receive a 25p discount, or if they've forgotten their cup, they'll be charged 5p for a single-use cup. These 5ps are donated to Hubbub, and we're using them to run campaigns that are good for the planet and for people.

Building stronger, greener communities
Did you know that over 3 billion single use coffee cups are disposed of daily in the UK and under 3% are recycled? (WRAP Fibre Composite Packaging Report). Back in 2018, Starbucks approached us about trialling a 5p charge on any hot drink bought in a single-use cup in their stores, to try and encourage customers to bring a reusable cup instead.
The 5p cup charge has now been rolled out nationwide, and Hubbub are pleased to be able to use the funds to run campaigns with social and environmental benefits that focus on three main areas:
Reducing the environmental impact of cups on our communities (including increasing reuse and recycling of cups)
Making the most of the food we have
Improving access and connection to nature
Spilling the beans on cups
Currently only a small proportion of coffee cups in the UK are recycled. The cups widely used are made of a super-sturdy combination of paper and plastic, and they need special recycling technology to separate them for recycling. There are enough recycling plants to recycle all cups, but the challenge is awareness and logistics of collecting cups separately to other recycling, meaning many cups end up in landfill instead.

Charges vs discounts
Carrot and stick approaches can help change behaviour. That's why Starbucks offer both a 5p charge for a single use cup, as well as a 25p discount customers for customer who bring a reusable. During a trial of 35 stores in London, reusable cup use increased from 2.2% to 5.8% – so the decision was made to implement it across all stores.
Where does this funding go? Nature, Food, Cups
Over the past few years, we've run exciting campaigns boosting reuse, increasing recycling of on-the-go food and drink packaging, and reducing pollution in our air and waterways. Together, Hubbub and Starbucks have enabled over 5 million cups to be recycled.

Now, we're stepping things up a notch and bringing in two new areas of focus: nature and food. That's not to say we're leaving cups behind, we'll continue to combat the impact of cups and other single-use items on our communities, but we'll also focus on topics that have a clear social impact too. We'll build stronger, greener communities by:
We launched the £1.2m Greener Communities Fund in partnership with NHS Charities Together that's enabling 10 NHS charities to increase access to green space near healthcare settings.

The projects are based on learnings from In Our Nature and Grow Together, and 4 pilot projects that were set up in early 2023. This network of outdoor spaces will allow community members to unwind, partake in activities and be closer to nature – with the aim of improving their overall wellbeing.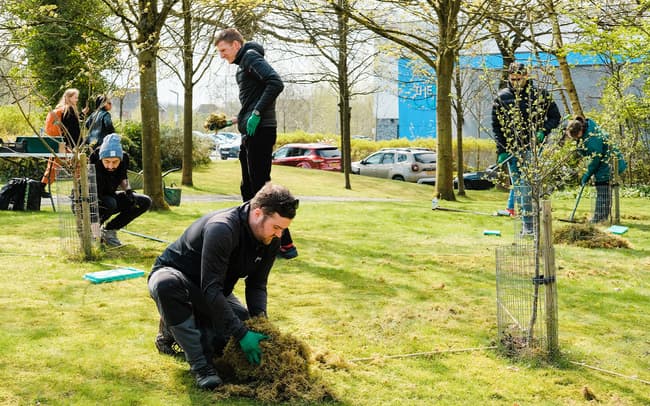 We're running a series of campaigns tackling food waste and increasing food security and resilience across the UK. 5p funds will support Hubbub to: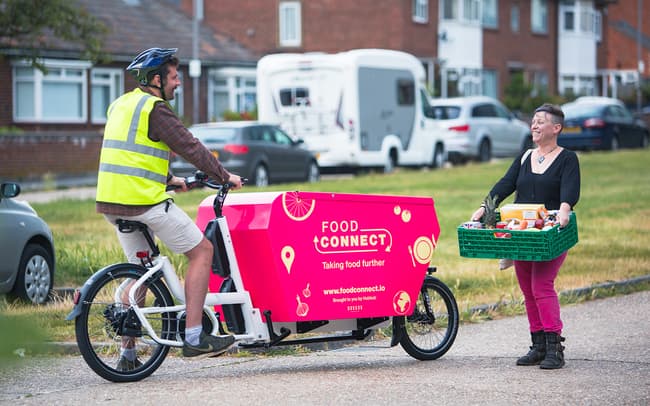 We're continuing to fund new recycling infrastructure, and we're enabling others to run innovative projects to boost reuse and tackle litter. 5p funds have been...
Boosting reuse through 6 Bring It Back Fund projects, which are trialling reusable options for food and drink packaging.
Supporting Starbucks with a returnable cup trial for 8 weeks in five London stores, which saw a return rate of 68%.
Accelerating recycling of single-use items through projects like The Cup Fund and In The Loop.
Funding an anti-littering project in Glasgow and Cardiff, Tidy Roadsides, which uses Ellipsis drone and AI technology to map litter hotspots informing behaviour change interventions to prevent littering.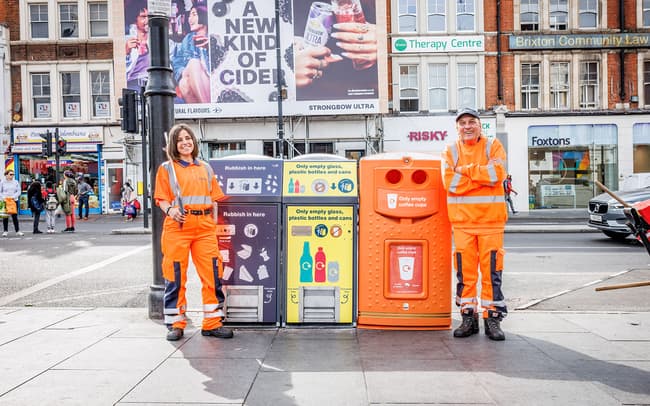 What difference have we made?
Our impact over the past 5 years has been epic, here's a snapshot of what the 5p funds have achieved:
Recycled over 5 million cups and 2.5 million plastic bottles and cans and set up 1,484 recycling bins.
Distributed over £4 million in grant funds to run innovative and community-led projects on waste, nature and food.
Reached 12 million people with 2022's Eat Your Pumpkin campaign.
Generated a total of over 2,000 pieces of media coverage, helping to spread the word about the importance of our work.
Join the hubbub
On top of all this, we want to double the amount of people bringing a reusable in Starbucks stores. Will you join us? Remember to bring your reusable cups to store!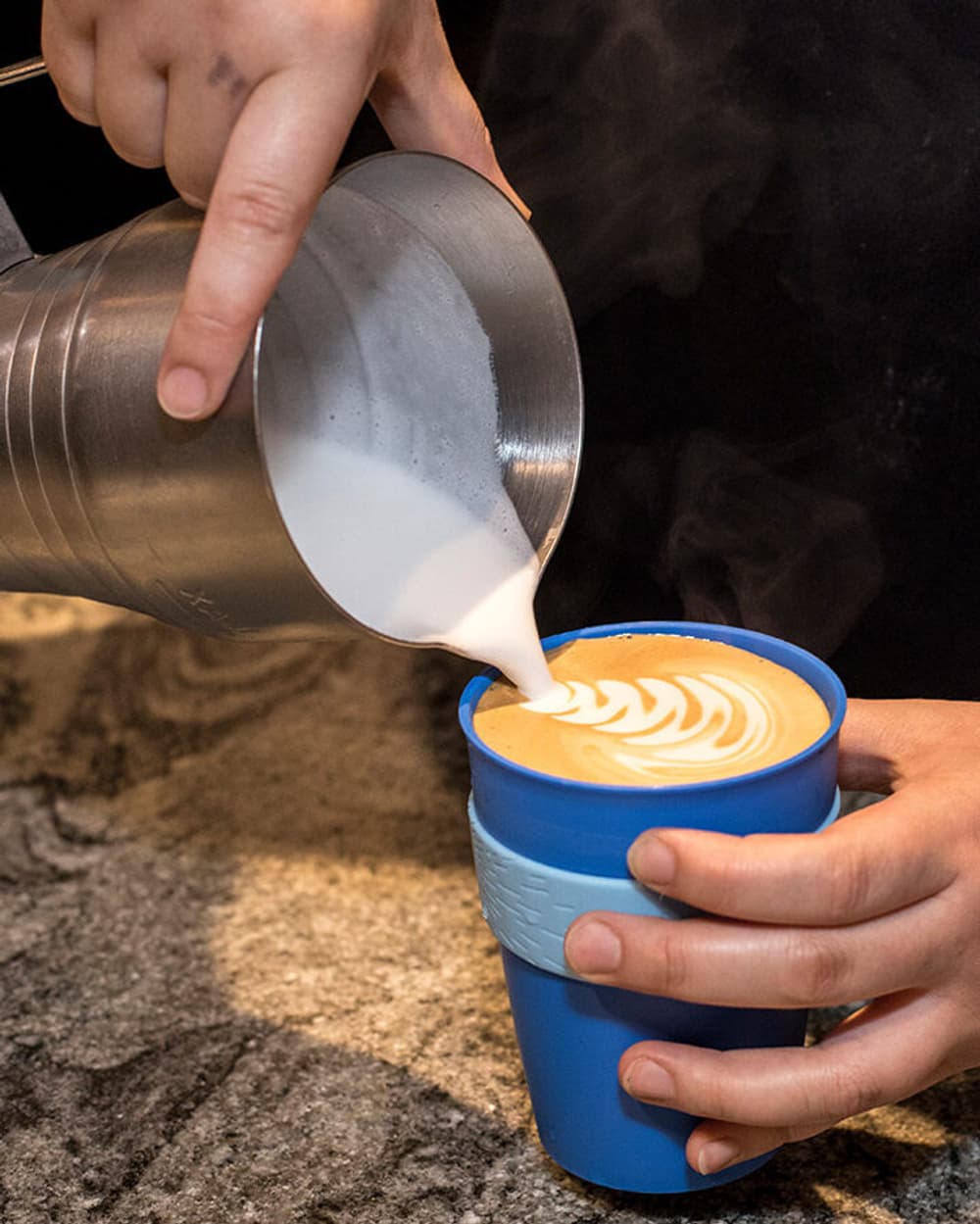 Are you a business that wants to collaborate?
Got your own challenge or idea for a project? We love to hear it, let's talk!