In The Loop
Coffees on the commute, a sarnie between meetings or chilled drinks with friends in the park; a nation on-the-go means we get through billions of plastic bottles, cans, glass bottles and coffee cups every year. Most of us recycle at home, but only 4 in 10 of us recycle on-the-go – there's a missing link (Every Can Counts, 2020). In The Loop brings businesses and local authorities together to make it easy for everyone to recycle while out and about, keeping valuable materials in circulation.

The packaging problem
Eating and drinking on-the-go has become second nature for most of us, but unfortunately recycling on-the-go hasn't. In 2019 eight billion recyclable drink containers ended up in landfill, being burnt or littered. Why? It's confusing. Less than half of local authorities have on street recycling systems (WRAP 2019) and when they do exist it can be hard to know what to put in which bin, meaning things end up in the wrong place and cause contamination. This is bad news for everyone - contaminated recycling could mean the entire bin goes to general waste. It also makes it less appealing to invest in scaling recycling facilities. The catch is, this packaging often contains glass, aluminium and plastic – all valuable materials which if kept in circulation could be used many times over.
What we know about recycling on the go:

Be bright and bold

94% of us want to see more recycling points. Make them stand out so they're easier to spot (Every Can Counts, 2022)

Be specific

We spend less than two seconds at a bin (unless you're one of the Hubbub team, we're mad about bins), so messaging needs to be specific. Mixed recycling gets mixed results. If you want empty plastic bottle and cans, say that.

Bins need buddies:

Always pair a recycling bin with a general waste bin so people have somewhere to put other rubbish. Most of us want to do the right thing but 'wish-cycling' can lead to contamination.

Repeat, and repeat:

We need to hear something seven times on average before our habits change.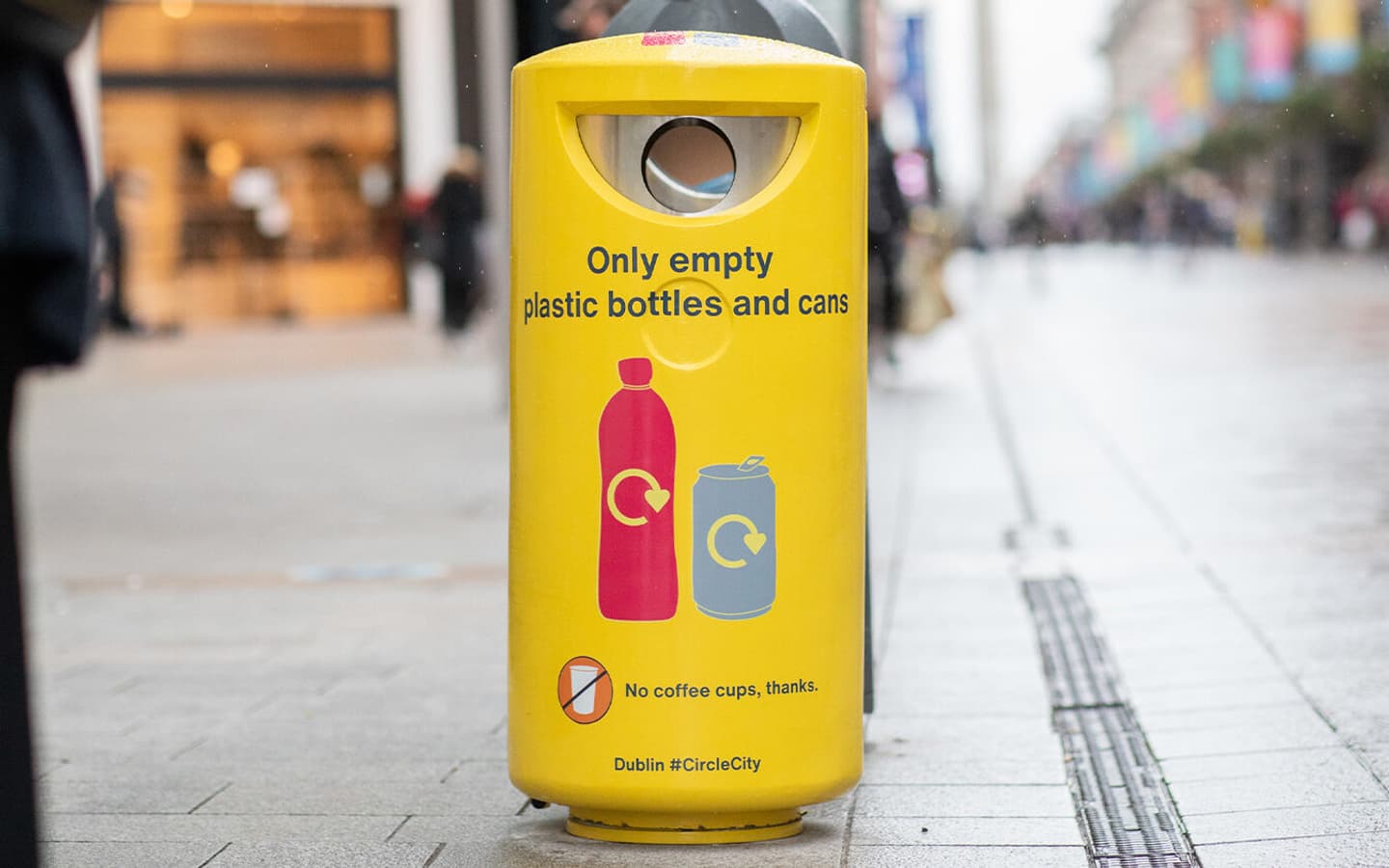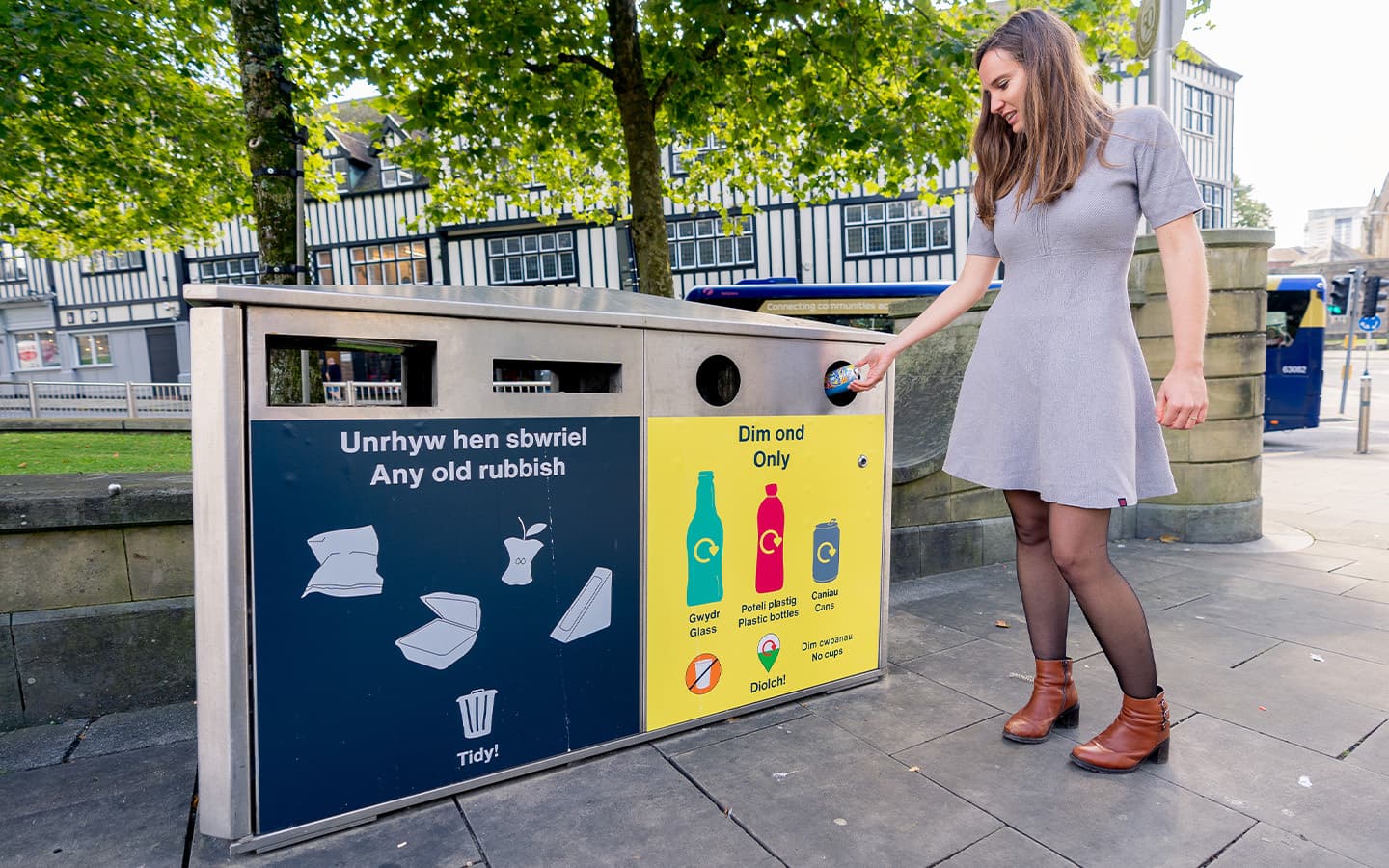 Recycle to keep materials In The Loop
First piloted in 2018 in Leeds, #LeedsByExample (get it?), set out to increase the amount of high value plastic bottles, cans and coffee cups getting recycled. We tripled recycling rates within the first year. We applied our learnings to #InTheLoop which has now scaled to streets and parks across Swansea, Edinburgh, Dublin, Wimbledon, Telford & Wrekin and Lambeth. We've tried everything from a 10-foot wave installation made from litter dropped in a day to highlight the issue of waste, to bubble-blowing bins making it hard to resist recycling, to a recycle-reward machines. We've also perfected the design of our bright colourful bins and clear communications to make it easy to recycle the right things.
Sharing the blueprint
Consistency is key, which is why we're aiming for In The Loop to become the go-to solution for effective on-street recycling across the UK. We're giving away our learnings along with tips, downloadable designs and assets in a free online toolkit for anyone responsible for collecting or providing out-of-home recycling infrastructure. It's there for the taking! We sometimes have grant funds available to help you get set up too - sign up here for updates. 
The difference In The Loop is making
Bringing businesses and local authorities together, and providing clear, simple and beautifully designed infrastructure, we tripled recycling rates of plastic bottles, cans and coffee cups in Leeds City Centre.
Collected and recycled over 2.5 million plastic and glass bottles and cans. There are now over 500 #InTheLoop bins, and based on impact reporting we estimate that the average bin collects 2373 items per year.
Scaled to seven towns and cities across the UK, with a toolkit and grant funding package which is helping scale to even more regions. Across each campaign we've increased the amount of recycling, whilst tackling the issue of contamination. In our most recent campaign in Lambeth, we saw a reduction in the contamination of recycling bins by 70%, whilst increasing the quantity of recycling by over 140%.
What can you do?
Switch to a reusable bottle or coffee cup to cut waste all together. If you do need to recycle, check labels and put the right thing in the right bin. If in doubt, leave it out.
Want to see #InTheLoop in your area? Share this page with your local authority and let them know you'd like to see better recycling facilities in your area. If you are a local authority or business, hi – drop us a line.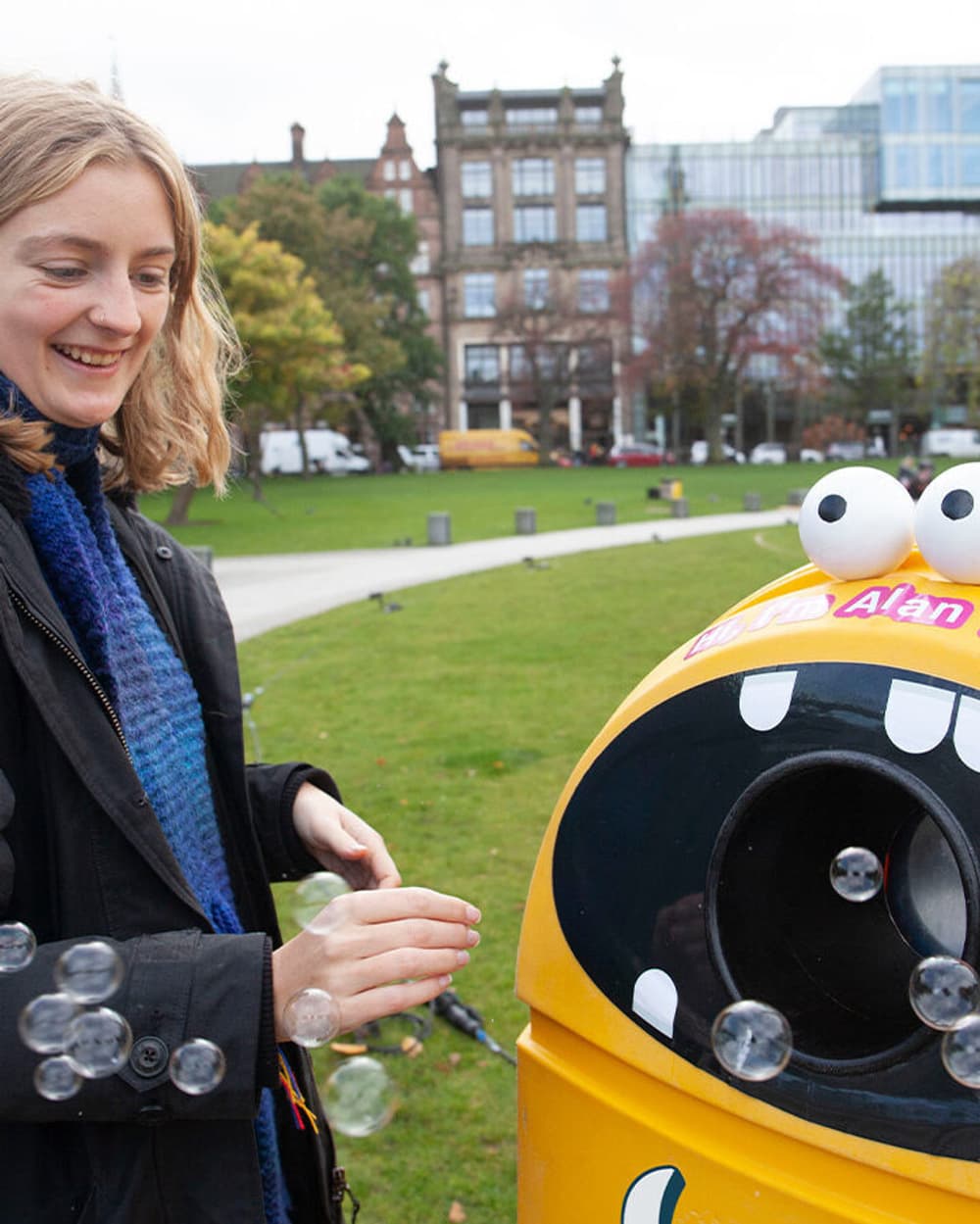 See Hubbub in action
From Community Fridges that cut food waste to Ballot Bins that halve cigarette litter, our campaigns show what taking action that's good for the environment looks like in practice.