10 Halloween activities for kids
Hubbub-bubble, toil and trouble... Halloween is just around the corner and we've brewed up 10 halloween activities so that you can have a special spookfest this year that won't give your bank or the planet the shivers! Perfect for entertaining little monsters over half term break.
Want to find out how you can eat your pumpkin and save money and food waste this halloween? Check out the #EatYourPumpkin campaign, now in its 10th year. It's spooky what difference you can make.
These tips are part of something bigger. At Hubbub, we want to see a world where everyone makes choices that are good for the environment. Check out what we do and how your actions add up.
Decorations
Bring that haunted feeling home with classic decorations or some quick upcycling projects.
1) Ahead of the carve
The Jack O'Lantern is the traditional icon of Halloween, so grab a gourd and get creative. You may have seen pumpkins in shops labelled 'carving pumpkins'. Don't let the sticker fool you, carving pumpkins are perfectly edible. And if you're not ready to get messy and cook it up yet, you can simply decorate it from the outside, creating a face with pens, stickers, or sticking on paper features. When carving, scrape out the insides and you can use the flesh in any number of recipes or steam and freeze for another day.
2) Bloody good
Make realistic, kid-safe fake blood at home using kitchen ingredients. This stuff looks the business and won't matter if it gets tasted. It's great for bloody handprints on windows or for adding a dash of gore to a costume or cake. Just watch out to only get it on clothes and fabrics you don't mind getting dirty: washing it out can be murder.
240ml water
450g icing sugar
Approx. 25ml red food colouring
1 tablespoon and a half of cocoa powder (or hot chocolate)
Whisk like your life depends on it, till smooth!
3) Darken your doorways
Why is Halloween so scary? It plays on one of our original fears: fear of the dark, as anything could be lurking in the shadows. Cover lightbulbs with coloured transparent sweet wrappers to get a ghastly green or outrageous orange glow, but make sure bulbs are LED first otherwise they get very hot and can melt plastic. If you've got some plastic milk jugs lying around, transform them into ghostly lanterns with a black felt-tip pen and a string of fairy lights. Switch off as many lights as you can to see what strange shadows emerge.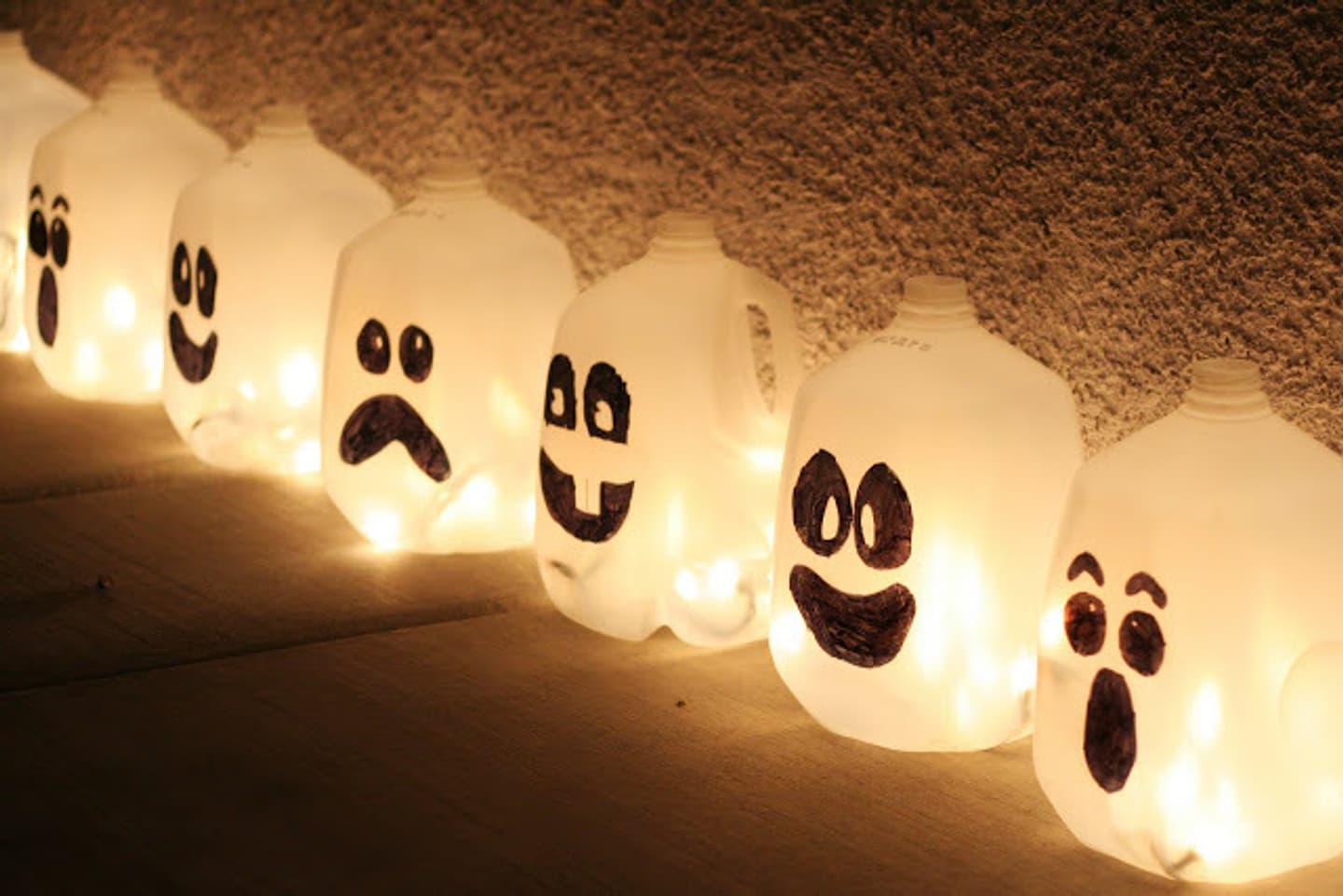 Food
While Halloween is known for children goblin up sweets, there can be a lot more variety on the table if you're not trick or treating.
4) Sweet
Use those extra bits of pumpkin set aside from carving to make health(ier) sweet treats. Want some ideas to use your lantern as a spoo-key ingredient? Try pumpkin and coconut cake, chocolate and pumpkin pie or some eerie-sistable pumpkin cookies.
5) Savoury
But Halloween is not just about the sweet stuff. If you're after a devilish dinner, even meal-time favourites can be twisted to bring on a fright. Turn your spaghetti meatballs into spaghetti eyeballs using mozzarella, tomato and basil. Mash potato can be piped into ghostly shapes, and you can use peas or black sesame seeds for eyes. Have a whole pumpkin going spare? Transform it into a baked pumpkin fondue. Eat, drink, and be scary!
Games
6) Plas-tic or treat
Plastic wrapping drive you a bit batty? You're not alone. If people are likely to be dropping by your home, or you just want an alternative, here are some treats that come without the plastic: foil wrapped chocolates, raisins in boxes, or mandarins with pumpkin faces drawn on!
7) Going on a scare hunt
If you're not going out trick or treating, bring the search for sweets indoors. Hide little sweets around (like an easter egg hunt) for younger children. For older children try a more complex search, like hiding letters of the alphabet that when found and rearranged spell out the location of a prize.
8) What's in the box?
For this you need a box larger than a shoe box with a hole cut in, or you could use a large mixing bowl with a cloth or tea towel draped over it. The rules are no one can see what is in the box and the item cannot be removed from the box. For interesting and creepy objects to hide inside, find a range of different textures from furry, smooth, rough, gooey, soft, and hard. Try slime, fluffy toys, plastic animals, a banana skin, strawberry laces, cereal, unusual fruit (rambutans, lychees, sugar apples) or whatever you can find!
9) Tell scary stories
What's more hair-raising than spinning a terrifying tale on Halloween under a full moon? No equipment or planning needed, totally free and totally perfect. Set the scene by turning down the lights and playing some creepy backing tracks. If you're out of ideas, pre-read stories can be found on Youtube.
Costumes
10) DIY or dead
Did you know 4 in 10 Halloween costumes are worn once before being thrown away? Well, we are skele-done with wasting money and costumes! Rummage the depths of your wardrobe and bring an old costume back from the dead. Or if you're channelling your inner mad inventor, have a go at our fa-boo-lous guide for making a DIY costume that will spook others, but not the planet!
Pumpkeen for more?
Learn how to decorate, grow and pick your own pumpkin this halloween. 
Want to save more money on food?
Find out how you can make the most of the food you buy so that you don't have to spend more than you need to.