Revealed! Four circular economy innovators share what works
By Alex Robinson 26th September, 2023
Investing in innovation is a high-risk business. It stands to reason: if something hasn't been done before, there's a pretty good chance it won't work. But if we're going to make the breakthroughs required to create an economy that's fit for the future, then we need funders willing to take the risks, and we need to get better at finding and supporting innovators in every part of the economy and society.
It's part of why we were excited to set up The Circular Future Fund with the John Lewis Partnership in 2021, with the aim of accelerating the transition towards a more circular economy. We were on the hunt for pioneering new approaches to challenge the outdated 'take, make, dispose' model.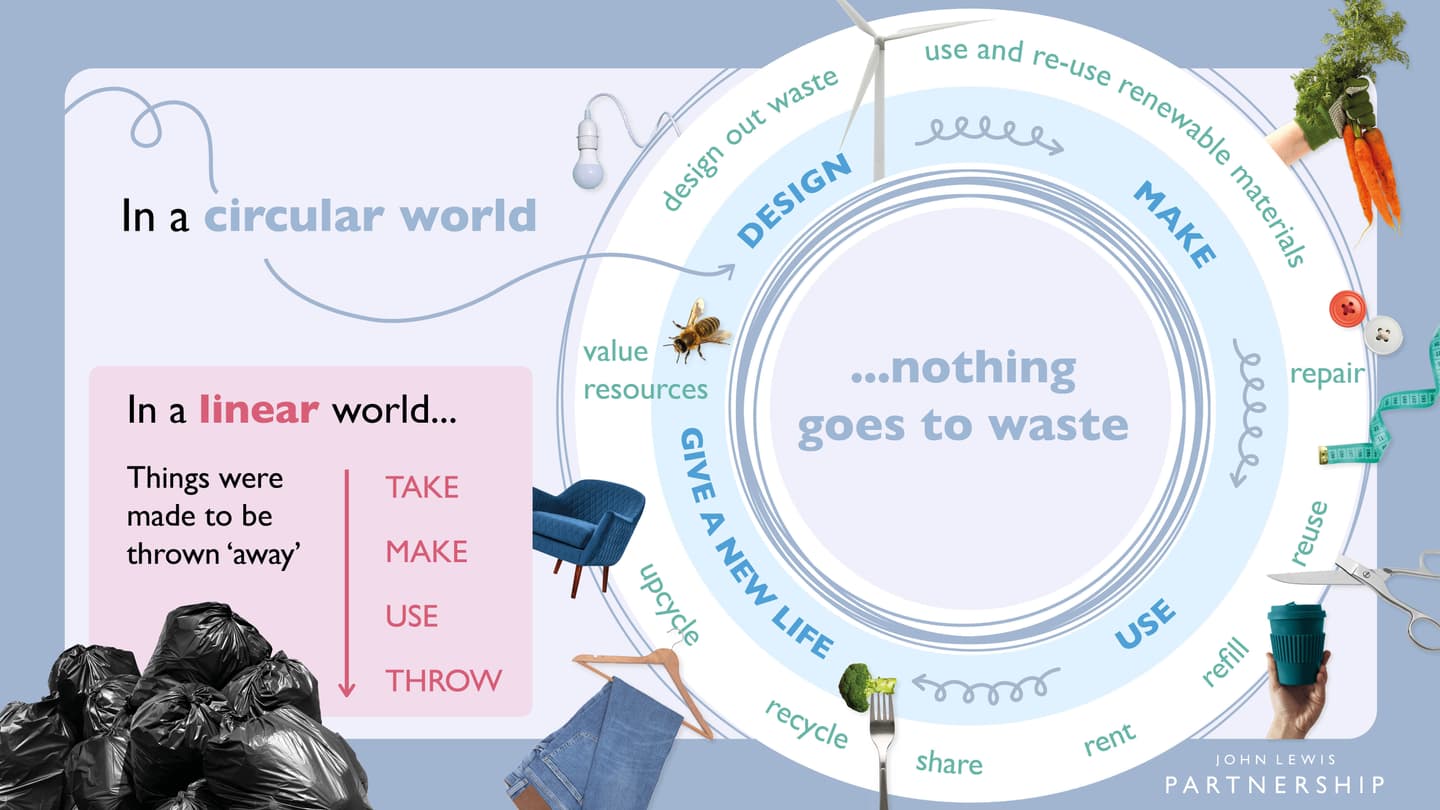 245 applications later, we narrowed it down to four winners who shared a £1m prize fund. Twelve months in, we're still near the start of their journeys but – spoiler alert – we have some good news to share. You'll find all the details on their progress in the new impact report.
Here's a snapshot of the headlines
DAME - Helping menstrual cups go mainstream

The difference made: 
DAME created a menstrual cup myth-busting user guide, featuring Hayley Morris which is viewed 4,500 times per day. 
They designed a ground-breaking self-sanitising menstrual cup, removing the need to boil or sterilise cups, which has achieved several ISO standards to prove its safety and effectiveness. 
Each cup is predicted to contribute 99 times less carbon over its lifetime's use (compared to boiling a traditional cup) and avoids the need for 2,860 disposable period products per person over a lifetime of periods.
Next DAME are exploring charity partnerships to see if the cup could be available to those experiencing period poverty, and sharing the user guide content with educators to help more teenagers to try and stick with menstrual cups.
PIP & HENRY - Redesigning children's shoes to make them last longer
The difference made:
Pip & Henry are developing three concepts around the idea of an expandable shoe, and shoes that can be more cleanly separated into their component materials and therefore more easily recycled.  
They've gained in-depth knowledge about the environmental impacts of footwear manufacturing methods and material innovations, plus how to design for better end of life recycling, which they will share with the wider footwear industry to drive down the impact of shoes.  
Pip & Henry will be launching a children's footwear capsule collection in 2024 and exploring licensing concepts, to help scale their circular shoe innovations.
The difference made:
SLIC have already established nine hubs offering equipment, workshops, and tools free of charge to overcome cost barriers for the public, making everyday circular economy actions more accessible.  
Early indications suggest hubs have the potential to reach at least 2,000 people per year through sewing and mending classes alone.
SLIC plan to create a toolkit, disseminated through workshops, to share their learnings and help other library services across the UK replicate their approach.
THE UNIVERSITY OF LEEDS - New technology to enable polyester to be recycled again and again
The difference made:
Dyes in polyester cannot be being easily removed, hindering recycling. The University of Leeds's innovation created new novel 'switchable-solubility' dyes that enables them to be switched from water-soluble to water-insoluble to colour and de-colour polyester.
The research proves the dyes can be both added to, and removed from polyester, enabling the dye, water and fabric to be recycled with huge potential environmental benefits, needing less energy and water use, and removing the need for auxiliary chemicals in the dyeing process. 57 million tonnes of polyester are produced globally each year.
The University of Leeds also made a bonus discovery: their technology also works on existing dyes in polyester, and other fabrics such as denim. 
Next they plan to test at industrial scale, and complete a full environmental lifecycle analysis.  The University of Leeds will share their discoveries with the textile and recycling sectors, and explore commercialising the technology to maximise its impact and help create a circular economy for polyester.
There's more in the report, including some of the learnings that we hope will help others to both inspire and enable innovative projects that help create a circular economy. The project has reaffirmed some of the things we talk about at Hubbub all the time: the importance of gaining user insight, the value of collaboration and the necessity of taking risks. From periods to polyester, it's great to see the application of these ideas making a real impact among such a diverse set of projects, and we'll be cheering on the four winners as they keep working towards their goals.
If you want to know more, or discuss how we might collaborate on work like this, do get in touch.
Are you a business that wants to collaborate?
If you have a challenge to share, or want to get involved with our work, we'd love to hear from you.
Want to stay in the loop? 
Sign up to our newsletters to be the first to know about new campaigns, launches, events, tips, research and environmental news. You're in for a treat.