#PickYourSide
Are you team Barbie or Oppenheimer? Would you rather win the lottery or meet your soulmate? And is it a barm or a muffin?
Back in 2016, Hubbub launched the Ballot Bin: the world's first voting ashtray which asks the important questions in life. It's fair to say it's been a hit. From one bin on Villiers Street in London asking smokers to pick Ronaldo or Messi, to almost 5,000 bins in 42 countries tackling litter by asking the important questions.
Here's another: what if there were Big Ballot Bins for general waste too? #PickYourSide is a collaboration with KFC testing whether new Big Ballot Bins can reduce litter on UK high streets.

Interested in our big Ballot Bins? Fill in this short form and we'll let you know if they are up for grabs in the future:
An expensive mess
Does litter put a bee in your bonnet? You're not alone. Hubbub polling found 8 in 10 British adults get frustrated by litter. And yet, it's a tough nut to crack. More than 20 pieces of litter are dropped per second (2M/day) costing UK taxpayers about £1BN per year (Keep Britain Tidy) and despite best efforts, much of this ends up in our natural environment where it causes havoc.
More bins in hotspots, fines and education about litter's effects all play an important part in cracking the proverbial nut. But so can playful nudges encouraging people to talk and think about litter and put their rubbish where it counts to keep our streets clean.
Carrots over sticks
Our original Ballot Bins are inspired by behaviour change principles and are proven to reduce cigarette litter by up to 73% (Ellipsis Earth 2021). But what if Ballot Bins for general waste could do similar? It's a design challenge we've often pondered but never set out to conclusively answer… until now.
We know bright and eye-catching design works. Another successful element of the original Ballot Bin is the 'live vote' feature: the binned butts show how smokers have voted in real-time. But how could this feature be replicated on a bigger, general waste bin for all kinds of rubbish while still being aesthetic? We went back to the drawing board… and we think we've cracked it.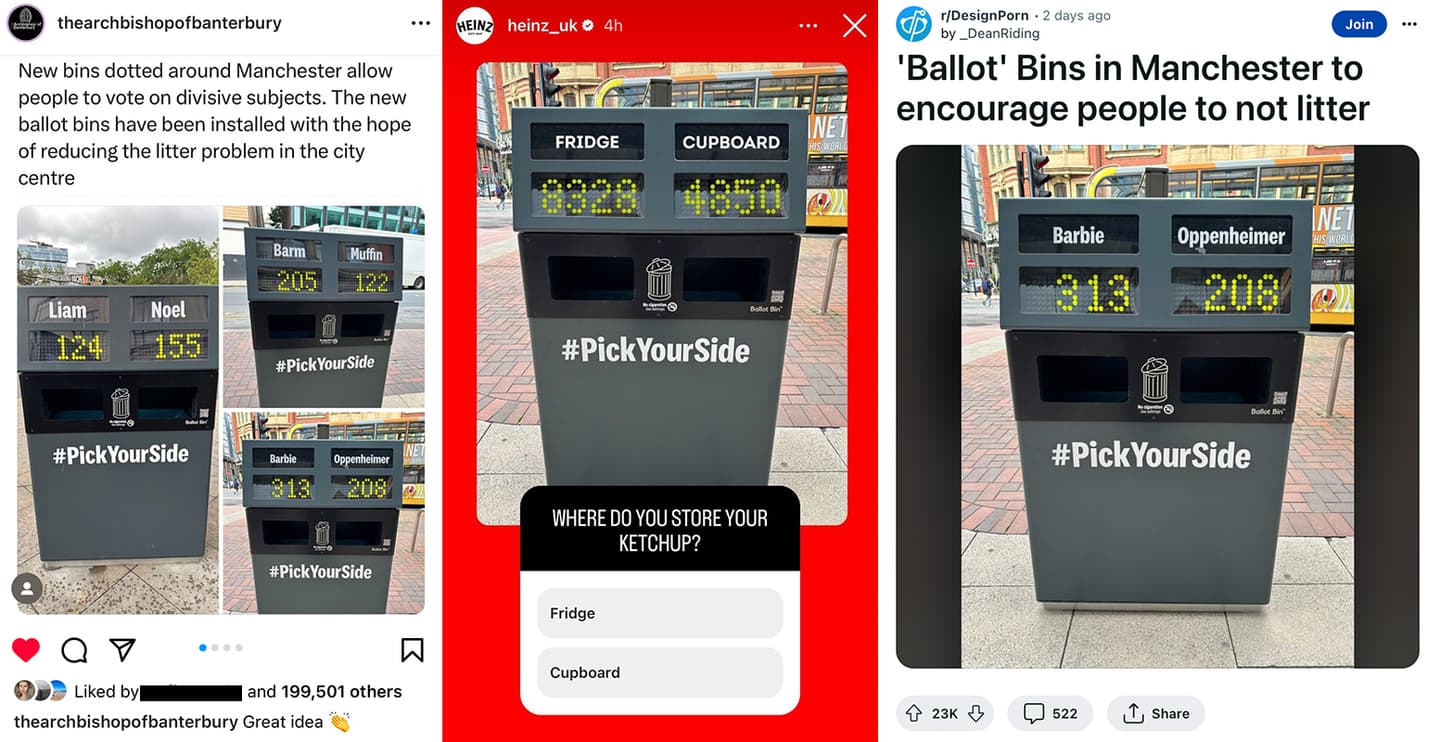 Our most advanced bin yet
We've worked with Instrument Industries, the manufacturers of the original Ballot Bin, to create a pretty swanky bin. We're biased to be fair, but when was the last time you saw a solar-powered, interactive, customisable and beautifully designed electronic voting bin?
We partnered with Manchester City Council and Southampton City Council for 8-weeks over the summer to test whether the Big Ballot Bins could reduce litter on UK high streets by sparking debates rather than wagging fingers.

#Binsights

10 million Brits saw #PickYourSide*. Which makes the Big Ballot Bin our most famous bin yet!
Beyond new-found fame, our latest litter-tackling creation used its binfluence to achieve two core campaign aims, which consisted of getting the nation…

Tackling litter ✅
The Big Ballot Bins had a capture radius that was 2.5x larger than existing bins on average***
Drinks litter was reduced by approximately 70% and food litter by around 60% within 20m of the bins***
70% of people saw voting bins as a good way of reducing litter**
Talking rubbish ✅
Of those who used a Ballot Bin, 58% had a conversation about them with someone**
During the 8-week campaign, there were 618 mentions of #PickYourSide on social media seen by 3.6 million people
#PickYourSide was featured on BBC News and mentioned a number of times on BBC Radio 


What's next?
If you're a resident of Manchester or Southampton who's been left with a Big Ballot Bin-shaped hole in your life, or are disappointed that our rubbish-counting-canisters never graced your town or city, please don't fret. We're exploring ways to bring them back bigger and better than before. In the meantime, watch this space!


*According to nationally representative polling of 3,001 UK adults, October 2023
**According to on-street surveying of 114 members of the public in Manchester and Southampton
***Ellipsis Earth, October 2023

Check out our other work on litter
The (OG) Ballot Bin: available to buy wherever you are
Plastic Fishing: litter picking aboard boats made from 99% recycled plastic
We know positive, playful ways to engage people on boring issues like litter can cut through and, when rooted in insight and data, have a significant impact. It's an approach we take in our work throughout the waste hierarchy, from litter to recycling to repair and reuse to minimising the use of resources in the first place.