Dress to impress this pride season
Want to look fabulous but still save yourself some time and money? Embody the rich history of Pride and embrace DIY and thriftiness. We've teamed up with Izzy McLeod to pull together top tips for a unique pride look that's ethical and good for the planet.
Izzy is the creator of '#WhoMadeMyPrideMerch' – a campaign challenging brands on where their pride merch is made, raising awareness of any pride merchandise created in countries where it's illegal to be LGBTQIA+.
Read on for inspiration...
These tips are part of something bigger. At Hubbub, we want to see a world where everyone makes choices that are good for the environment. Check out what we do and how your actions add up.
1) Patch it up
Looking for something that's more subtle? Patches can be added to any piece of clothing to add a personal flare or a sneaky hole repair. You can try making your own patch to decorate your bag, favourite jacket, or tee with. They can be as small or as large as you want, so practice and see how much fun you have with it before committing to a larger piece.
Patches can be made in many different ways, by sewing or gluing fabric scraps (you could even use old socks!), using embroidery, cross stitch or paint. There are plenty of online tutorials, local craft circles you could join, and the LGBT foundation often run their own events that you can check out.
2) Wear pride flag colours
Want a more subtle and stylish look? Not feeling DIY? Here's something you can do using your existing wardrobe. Wearing the colours of a Pride flag in whatever style of clothing you already have to hand can be chosen as a somewhat discreet option, or more obvious as a human size rainbow! Missing some colours or pieces? Take a trip to a local charity shop, a clothes swap, or give dye a try.
Inspiration: Welsh Ballroom visited Swansea Pride and dressed in the trans flag colours. 
"I've personally worn the non-binary flag as an outfit many times and only those who know, know" - Izzy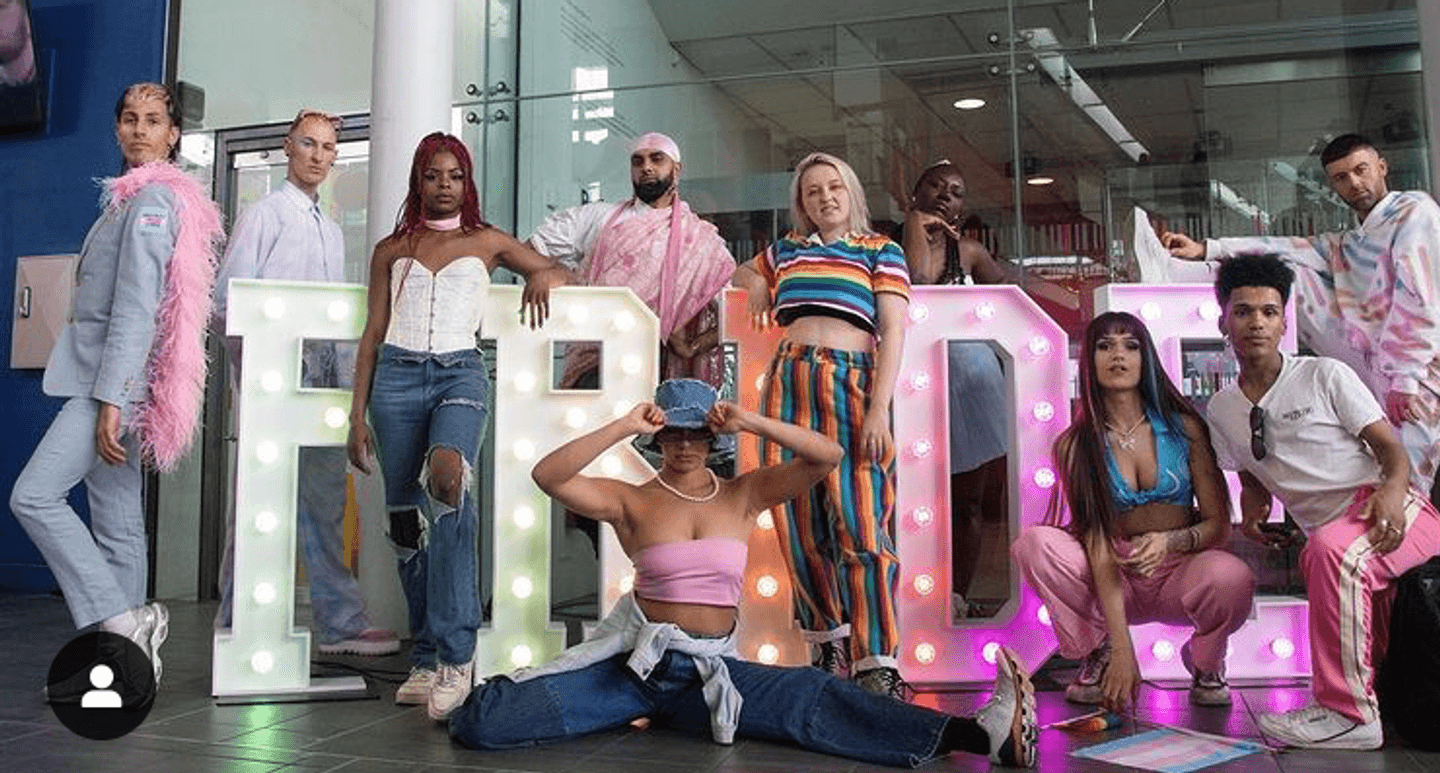 3) Transform your unworn clothes
Make a t-shirt that screams 'you' by transforming your existing wardrobe. Try hand-drawing with fabric pens or paint, try tie-dye, embroidery, screen or lino printing! The possibilities are endless. Nervous you'll ruin your t-shirt? Try a tote-bag or PJ's first.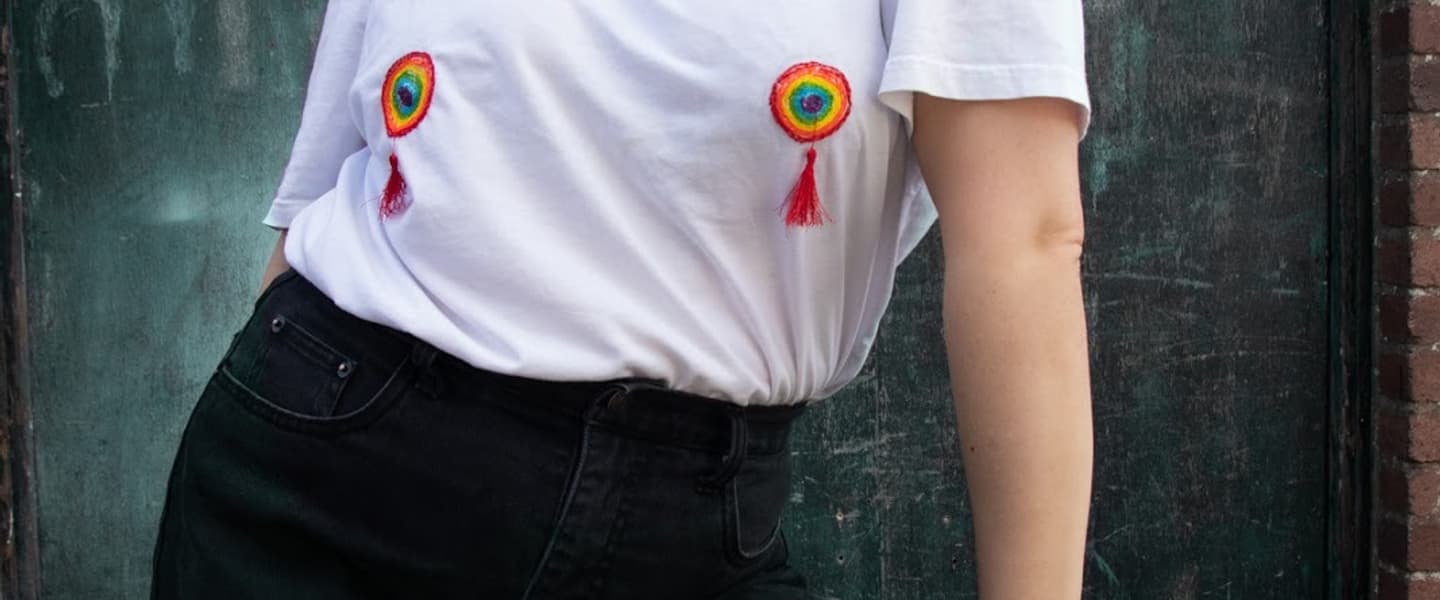 "A few years ago I made my 'Tassel Twirling Queer' tee shirt with a £1 charity shop tee, embroidered tassels and a painted back. It was the first time I'd done a project like this and it was surprisingly easy! Try drawing out designs first before committing to a t-shirt."
4) Make the cut
A pair of scissors might be all you need to create your new favourite piece. Crop your old baggy t-shirt into a sleeveless crop-top, say goodbye to the over-ripped jeans and hello to some new short-shorts. Go a step further and use the spare fabric to create a unique patch (see tip #1).
Some examples include: taking the motif on an old t shirt and turning into a patch for a bag or jacket; cropping a top that doesn't fit round the tummy into a cute crop; cutting the arms off a tee with stains in the pits and turning into a tank top or turn a basic tee into a halter neck.
If you are braving the scissors? Always cut less material off than you think you want gone, you can go back and cut more but there's no going back!
5) Accessorise!
A versatile way to pride up any outfit is with a good accessor choice. Go extra, or keep it subtle, it's up to you! You can try your hand at making pin badges, flags, jewellery and more. Try to get pieces you can mix and match, saving yourself some money in the long run with pieces you'll wear time and time again.
6) 'Borrow' or swap with friends
Pride can be a great place to try playing with your expression, and try something new, and swapping or borrowing can be a great way to do this without having to buy new clothes.
Clothes swaps are a great way to bring new pieces into your wardrobe and get rid of stuff you no longer want for free – one person's trash is another's treasure! Organise a day to raid your best friend's wardrobe, or have a bigger group of friends all meet somewhere with clothes they no longer need for a massive swap! Many LGBTQ+ organisations and community groups will do clothes swaps. And places like TIN wardrobe offer clothing for free to trans, intersex and non-binary people.
Most good friends would be very happy to let you 'borrow' that piece you've had your eye on, so forward them this blog and tell them you're trying to be more sustainable…

Need more inspiration? 
Check out pictures from previous pride events online for more outfit inspo than you know what to do with. Share your look and tips with #GreenWithPride and #IMadeMyPrideMerch. And if you're wearing some sparkles, here are 10 tips for making sequin shiny and beaded clothes last longer.
If you want more information on pride merch and campaigning for LGBTQ+ garment workers, then check out #WhoMadeMyPrideMerch.
Have a very happy pride, whatever you end up wearing – you'll look great!
Would you be proud to do more? 
Check out our tips for change for plenty more simple ideas for living sustainably.
Want to stay in the loop? 
Sign up to our newsletters to be the first to know about new campaigns, launches, tips, research and environmental news. You're in for a treat.