Bright Friday
What was the last thing you bought on Black Friday? According to our research 45% of us spend money we can't afford because there was a sale on, and half of young people said Black Friday encourages them to buy things they don't need (2017). But what if there was another way?
70% of us having bought sale items that we've never even used (Hubbub 2017) and while Black Friday can sometimes make big ticket items cheaper, in a lot of cases retailers will hike up the price in the months before meaning you might not be getting as good a deal as you think you are. Which found that a massive 98% of products that were on sale on Black Friday 2021 were cheaper or the same as their Black Friday price at other times in the year.
This means we might all be spending a lot of money we don't have on things that will never get used once we've bought them and might end up in landfill like the other 72 items of clothing Brits throw away every year.

A bright idea...
We created 'Bright Friday': an alternative to this Black Friday frenzy. With a focus on fashion, we created a series of events, pop-up installations and messages to help people find creative ways to get fashion fixes for less, and to remind people that we don't need to buy new, break our bank or the planet, to feel good. The first campaign in 2016 took over the streets of Brighton and in 2017 we scaled to three universities across London
The campaign included:
A pop-up installation and giant clothes cube, 2m x 2m, visually displaying the amount of clothes we throw away every 3.5 minutes in the UK - around 300,000 tonnes a year (WRAP).
Clothes swaps, inviting people to swap clothes they rarely wear and find some pre-loved clothes.
Professional styling sessions to help people discover what colours, shapes and styles of clothes they feel great in, so next time they need something new, they know what they'll love and get lots of wears from.
Free clothes alterations and repairs with a local haberdasher.
Sewing workshops and how-to cards, teaching common repairs such as how to replace a button and fix a hem.
'FAUX', a satirical fashion magazine handed out in shopping centres to highlight the ridiculous side of fast fashion and encourage people to swap, restyle or repair clothes instead.
Did things get brighter?
Across the 2016 and 2017 campaigns, Bright Friday generated over 21 million PR opportunities to hear about our sustainable messaging, including coverage on Sky News and The Metro. We reached over 3.3 million people online and 3,000 people took part in events, styling sessions, workshops and FAUX.
In total, the campaigns extended the life of 639 items of clothing through swapping or repairing, directly preventing textiles from going to waste.

Get involved
Buy less this Black Friday, or make sure to buy exactly what you need! If you want to run your own Bright Friday event, we've put together a simple guide on running a clothes swap where people can get something new for free! Get in touch if you need any advice and let us know how you get on.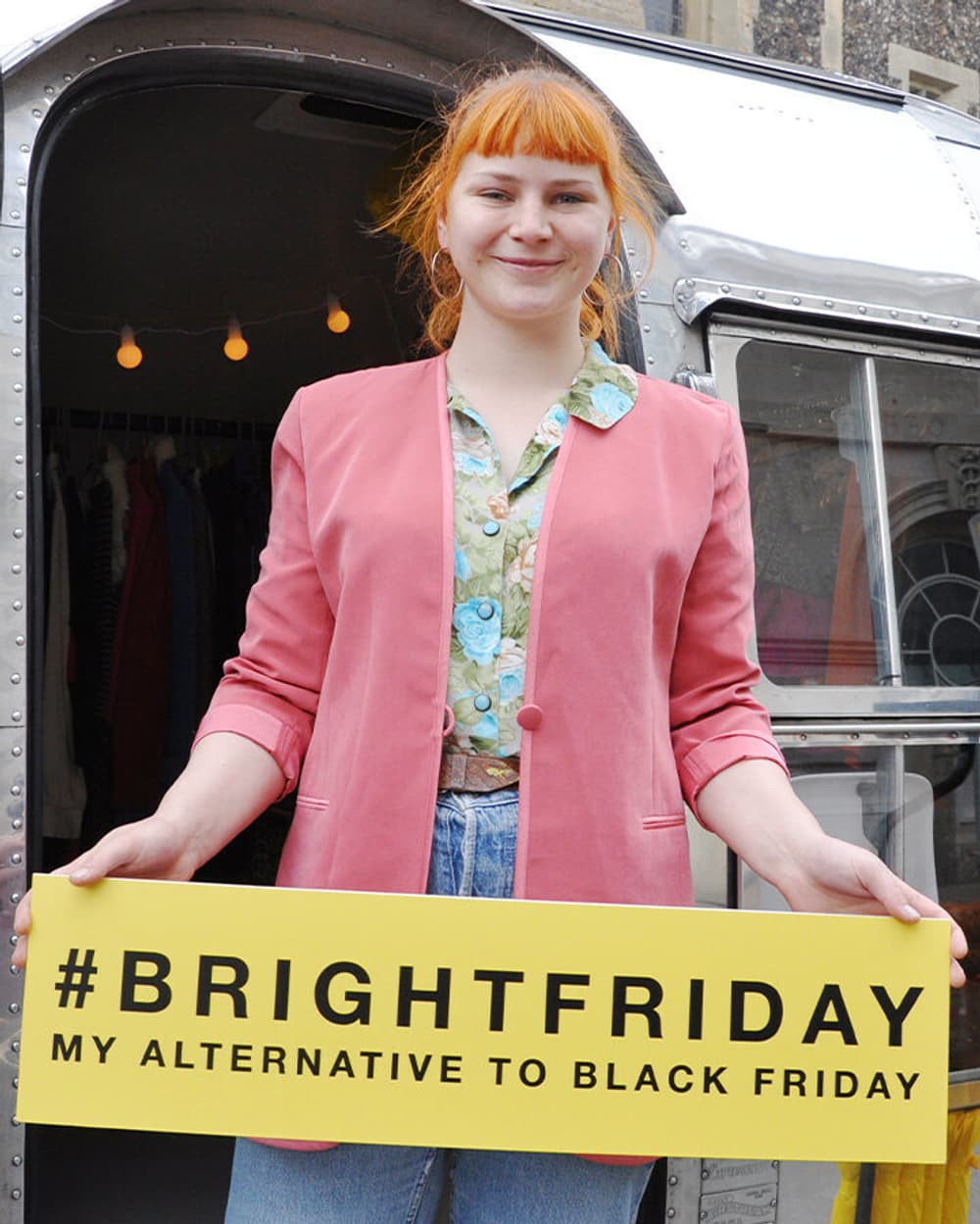 Curious to know more about Hubbub?
At Hubbub, we want to see a world where everyone makes choices that are good for the environment. Check out what we do and the difference we're making.